I found it only appropriate to release the interview with Hugh Jackman on the theater release date of Real Steel. Hugh Jackman sounds like an amazing actor, friend, father, and all around good person. He was very down to earth and quite funny. Telling humorous stories from boyhood as well as having only nice things to say about his co-star Dakota Goyo I hope you find this interview interesting and you enjoy the premiere of Real Steel.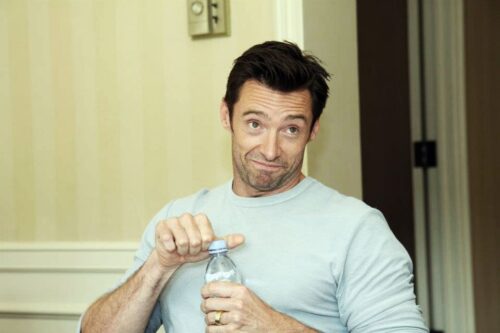 Here is a cute session showing his character.  He was so endearing talking about the directors daughter, and the bond between the two of them.
Blogger :    He (Shawn Levy) said you called his daughter on her birthday.

Hugh Jackman :   Oh.  I've had a crush on his daughter.  Charlie.  Same name as my character.  And she's three.  And then most of the — well she's in the movie. She's young but she's such a cutie.  And she wrote me a little love letter.

Blogger :   She has no idea by the way.  She just thinks that, you know, daddy's friend at work is cute.  She has no idea who she is writing this letter to.

Hugh Jackman :    She has no idea.  Are you trying to say this is not real? (laughter)
After seeing the movie one of the things I pondered was whether or not to take my 6 year old daughter. It wasn't because I thought the movie was going to be to violent or have content I didn't want her to see but more on whether I thought it would hold her attention. After listening to Hugh Jackman I decided to take her.
Blogger  :    Have your kids seen the movie yet?

Hugh Jackman :  They — oh my gosh.  So I have an eleven year old boy and a six year old — I'm gonna take you back a little 'cause when I read the script, I — I'm not proud of this moment.  But I had the script for three days.  And I was busy.  You know, what it's like, well you are all moms you get it and dads.   And so I was busy and then my agent rang and said, "Shawn's actually flying into New York for another thing and wants to meet with you in the morning for breakfast to discuss the script."

And I was like, "No problem." , go read it,  and it was 8 o'clock at night.  And I was just about to read to my son.  I had just read to my daughter.  And, uh, he was into Tin-Tin.  He loves Tin-Tin.  He goes, "Dad, can we read Tin-Tin?"  And I said, "Oh, how about we read this real good  story. It's called "Real Steel" about robots.  And he was like, "Really?"  A script — like he was — he's not interested in my job at all, right.  So I said, "Well I'll read a few pages."  And he goes, "Alright."  So my son always draws while I read.

So he's drawing and I'm reading.  I'm getting into the script and I went, oh, Oscar.  And I looked up.  He's like, "Go on, go on, go on, go on."  He was so into it.  And then he made me read the script to him every night for like ten night — at least ten nights in a row.  And he goes, "You keep reading more.  Read more.  And then can we get back to the beginning, and what about the Ambush thing.  He loved this script.  And he sat next to me in the film.  And it's the first time I've ever taken my kids to a film, right 'cause none of my films have really been applicable I thought for them.

And, uh, so he was there.  My daughter who's only six.  Um, and I just knew she would love it.  My daughter — I'm giving you background here.  But my daughter since she was two like if we drive if you played soft rock, she's be like, "Uhhhh,".  But the moment you put on heavy metal she was like literally like this (head banging)

So I thought, "She's gonna love this movie."  I knew it.  So she [LAUGHS] I said to her, "Are you enjoying it?"

I said, "Really?  What about Atom?"  And she goes, "No, I love Atom too."  So why do you love Atom?  And she says, "Because he understands Dakota."

Bloggers  :  Awwww.

Hugh Jackman  :    So anyway, yes, is the very long answer to that.  And they loved it.  And I saw the movie with my mother in law who's 75 and my wife and my two kids.  And all of them were cheering and they were like crying and they just — they just loved it.

It was a really great moment for me, you know, to genuinely have all those three generations loving it.  " You guys I feel like you're sitting on the reserve bench here.  Come sit here." (ok my friends this is Hugh Jackman asking myself and another blogger to sit next to him, just had to share!)
Ok now that we are all situated and I'm in a much better spot he continues with his story. It is so hard to really get the feel of interview without listening but imagine a lot of laughing and a sexy Australian accent.
Hugh Jackman :   So there was one funny moment. One funny moment when Evangeline Lily and I kiss in the movie.  And I saw my wife was sitting here.  So my wife's here (points to one side) , my son is here (points to the other side) .  And my wife looked past me.  I mean she's — she's an actress too.  She's used to it. And so she looked past me to look at Oscar.  And Oscar goes…. "You're gonna be in trouble."

And I lost it. It was really funny.
Hugh expands on the why this was the first movie of his he has taken his kids to see. I totally can see why he would feel the way he does.
Blogger  :    I've interviewed you in the past and I asked if you let your kids do Wolverine, watch the movies, read the comics.  And you said, "No."  This was two years ago.  You were like, "No."  They — and your exact answer was, 'They don't need to see their dad ripping people up.'

Did you think that for your six year old this movie was appropriate because I also have a six year old and I wouldn't let him see it.

Hugh Jackman  :  … I think as a parent and all parents know — I mean I had a father who would if it's PG-13, you could watch that movie when you turned 13.  And — and his thing was, "I don't know movies.  I don't know.  If that's what they're saying, that's what I'm gonna do."  And that was his — I — I was the only kid — I think I'm older than most of you guys. I was the only kid not to see "Star Wars", right?  Until I was 13.   That movie came out when I was seven.  I saw that movie like six years later like.

I don't know if you guys remember Star Wars? For my age it was, people were obsessed with it.  And I would beg my father.  And he goes, "No.  13.  13."  I, uh, my friends had birthday parties where they all went to see "Star Wars".  And I couldn't go,   so and I was like right from then on I was like I think you have to take it on a movie by movie basis.  I think you have to really look at it, and you just have to do as a parent what you feel comfortable with.
Real Steel is the first movie Hugh has allowed his children to see and it is also the first movie where he plays a dad.
Blogger :    In one you're ripping people up and the other one you're a mean dad.

Hugh Jackman :    Yes, it's interesting.  The movie — what I realized plays on different levels for different audiences.  So my son — he's say, "Oh, so I can have sodas for breakfast now?" (You'll get this when you see the movie-because you are going to see it right?)

But apart from that he didn't really talk about it — the — the father/son thing.  They — he really gets into the relationship between the boy and the robot. And my daughter gets into the — the robot stuff.  And they love that.  Um, but the father/son story is estranged son — that whole thing.  If they do get into it, they don't talk to me about it.   I — I don't think they really, uh, that hits home.  For me that hits home.  I think for you guys that's what hits home.  And that's what's, uh, good about the movie.
Considering how well liked Hugh Jackman is and his reputation as a good guy and father we were curious how he felt playing a "mean" dad at the beginning of the movie.
Blogger  :    You have a reputation as being a hands-on great dad.  You know, was it hard not being that guy?

Hugh Jackman  :    Shawn had to keep prodding both me and Dakota.  'Cause Dakota is a very well-brought up, polite boy like, "Hi, Mr. Jackman.  It's a great honor to be in a movie with you."  And I was like,  It was cute, but I'm like, "We're gonna have to break this down."  or it's not gonna work.  So I was playing practical jokes on him.  And — and I had to be mean to him and Shawn encouraged me to go for it.

Look, you guys, you guys I can tell this to.  Sometimes I tell this to the journalists.  They're like, "Really?"  When you have kids, there are times lines come to your head.  Like you wanna say something when they frustrate you.  And sometimes you do let it slip and you feel bad for like a week.  Right?  But almost every day there's something you wanna say that you shove deep down.  I've walked out of rooms before I've been so frustrated.  I remember going out and like punching a pillow on my bed, like I'm so frustrated, you know. Like sometimes and you don't wanna show them.  So for three months every day I got to say it ALL!

Whatever I was feeling, you know.
ATTENTION SMALL MOVIE SPOILER WATCH THE MOVIE FIRST AND COME BACK
I didn't want to leave this out because I feel this was an important part of the interview when Hugh is explaining Charlies character more and the relationship he is building with Max.
Blogger :    As a dad watching the show like watching your character on screen I just really looked at Charlie and I was like — I just connected with him and the way you looked — that your character looked at Dakota.  I was like, "Wow."  Is it easy to just let that genuine father emotion come out that you have?

Hugh Jackman  :    It was the  first  I played a father on screen and I found all the emotions very easy — like real easy.  You know, it's when you have a kid l– like the [SIGH] to this day when I see that scene where I say to Dakota I'm like, "Uh, I'm doing the best I can.  What do you want from me, you know?"  And he says, "I want you to fight for me.  That's all I've ever wanted."  And it kind of slays me.  I mean just watching that scene and I think if you actually heard that from your kid.  If your kid really believed you weren't in their corner.

Right?  I mean when your kid says, "Yeah, you're the worst dad in the world.  I wish I had another family life."  (Bloggers say "Yeah Whatever")  But if your kid actually said to you, "I never thought you were there for me,"

Hugh Jackman  :    You know, there's one scene actually I remember I said to Shawn it wasn't in the script per se.  But, you know, my character's fighting…this is a good question.

Shawn's said to me at one point that– that same scene where I said, "What do you want from me?"  And — and there's that dialogue.  And he says, "I think you should be angry."  And I said, "How can I be angry with him?  I'm giving him up already back to Deborah."  He says, "You're angry because this kid is making you feel."  You don't wanna like Charlie's somebody who doesn't wanna feel that.  He doesn't believe in himself enough to be a father.  He doesn't wanna — he doesn't wanna have those feelings.  That's complicated.  It's hard.  It's difficult.  He doesn't wanna fall in love with the kid because he feels he doesn't deserve it.

He feels he can't do that.  So he kept giving me right direction.  There was one scene I said, "Shawn," I said, "When I save him from that cliff," I said, "This is the first moment you really see him melt — a little bit."  And I said, "I think it — we should really show it.  I want you to be — have that camera in there because I wanna see two months.  I wanna see him instinctually just like — when I think about it I thank God that's my boy.  And I was just, you know, I thought I lost you, right?  And I think that is the first thing that really cracks him.

And I said, "Then I want you to see the moment where he goes, uh-oh, alright, enough of that,  right?  So I said, "And soon after that I'm gonna be mad with him."  And I go I told you not to be on that thing because he's — he's mad that he's felt that.   Yeah, I don't wanna feel this.  I don't wanna have that, you know, 'cause it's — we've all got them.  It's the most vulnerable feeling in the world being a parent.  Because you just — you want nothing more than to protect these little beings from everything that life can throw at them.

But, you know, to a certain degree you can only do so much, you know.  And it's — it's hard.  And anyway, you guys know all that.

Blogger  :   Were you more intimidated with the father/son aspect or the boxing and getting in shape?

Hugh Jackman  :    The father/son.

Blogger  :    Father/son?


Hugh Jackman  :    Yeah.  You know, I've done a lot of action movies.  And if you think about it in this movie, uh, it's an action movie I suppose on one level where I don't really do any action.  So, you know, it's — it's although I love that last scene.  And I worked very hard at the boxing with Sugar Ray Leonard and with his — not only was it important that I looked like a boxer, but more important you see the emotion come through.  You see someone — I love that moment of Dakota looking at his father coming to life.
This is quite an interesting fact about Hugh Jackman you probably didn't know. I very basic question.
Blogger :    What did you wanna be when you were growing up?

Hugh Jackman  :  The first thing I wanted to be was like my dad, an accountant.   I didn't know what an accountant was, but I'm — I knew my dad was — he had his own secretary. And more importantly, he had, uh, he had a pretty — I thought a pretty important office.  And there was this little room down the hall which had chocolate biscuits in it.  You know what I mean?  Dad said, You can go in there whenever you want and grab it.  I said, "You just grab biscuits whenever you want?"

I thought, "This is the best job in the world.  Plus he traveled — my dad traveled a lot for his business.  So I kind of thought this was — that's what I wanted to be. Then I went on my very first plane trip when I was 12.  And my brother and I were — we went to New Zealand for a holiday with my dad and family…. But on the plane trip they came down with these trolleys.  And out came this hot food.  I was like, "Who's cooking this food?"

I was like, "Maybe I could do that."  I wanna be a chef on a plane.

And I was like, "Awesome.  I'm gonna travel and cook."

I was very disappointed to find out that it was cooked in a microwave.