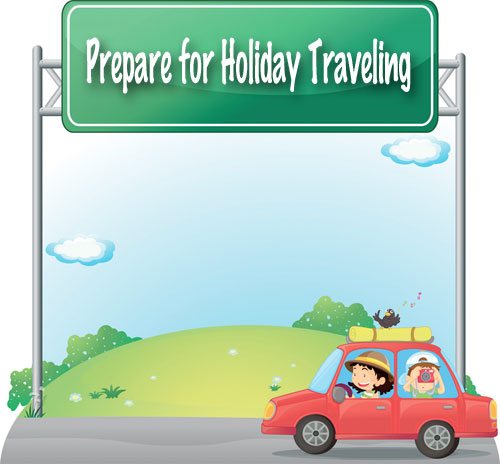 Don't shoot me because I'm already mentioning the holidays, they will be upon us before we know it. The holidays are a time when traveling is at a height. If you are lucky like me and your family all resides within close to the same area you can travel by car and nix the hefty prices on airline tickets. It is important, before you travel, to make sure that you have everything. Clothing, snacks, games (the important stuff), oh yeah and that your car is in traveling condition.
I would give you some tips to get your car ready for the cold weather but living in South Florida I honestly have no idea what those would be. It gets cold a couple weeks out of the year. However even if it doesn't get cold that doesn't mean we can neglect our car. In fact my husband (who worked in the automotive industry) says the tires in Florida don't last as long due to the hot asphalt.
Thankfully Hankook tires has a great deal on tires. You can get an $80 rebate on several types of tires (see widget below for rebate)
Ultra-High Performance Summer: Ventus V12 evo – As winter turns to spring and then summer, drivers searching for the ultimate in Ultra-High Performance tire ability need to look no further than the Ventus V12 evo. Having earned high marks from some of the most respected automotive and consumer magazines in the world, the Ventus V12 evo incorporates an innovative design that provides superior braking, handling and feedback under the most demanding driving conditions.
Ultra-High Performance All-Season: Ventus S1 noble2 – With an Asymmetric tread pattern, the Ventus S1 noble2 incorporates a Four Channel Rib Design for efficient water evacuation and an advanced silica rubber compound to offer impressive wet handling and braking. A straight Rib Block design applied to the outside of the tire's contact patch helps to prevent unwanted road noise and increase cornering grip, while multiple 3D Kerfs and Carving Edges provide improved winter condition traction. Additionally, the Ventus S1 noble2 offers a 50,000 mile limited treadwear warranty.
Premium Touring All-Season: Optimo H727 – For drivers looking for a Premium Touring All-Season tire, the Optimo H727 has their needs covered. Designed to provide drivers with a quiet, composed ride, the Optimo H727 comes with an amazing 100,000 mile limited treadwear warranty, one of the best in the industry.
Premium Highway All-Season Light Truck/SUV: Dynapro HT – The Dynapro HT is designed to provide drivers of Light Trucks, Vans and SUVs improved snow traction, low rolling resistance for improved vehicle fuel economy and longer treadwear. Additionally, the Dynapro HT is backed by a 70,000 mile treadwear and road hazard limited warranty in its P-Metric sizes.
I thought we were going to have to get a tire just yesterday when my husband found a nail lodged in his tire. He took it in and was told it was to close to the sidewall to plug. However once they took a look at it and got the nail out it turned out it had not punctured the tire, so no new tire needed. There is nothing worse then traveling with your family and young ones to end up on the side of the road because you have a vehicle issue that could have been prevented with a little maintenance.
Holiday Traveling Tips
Take into consideration tire wear and maintenance and decide if they need to be replaced.
Keep blankets/first aid in your car
Check oil and other fluids
Check brakes
Change windshield wipers
If you decide you need tires don't forget to grab the below $80 Hankook rebate and save yourself a little cash. This will make your holiday spending a little easier on your wallet.
Before your holiday schedule gets crazy, take care of your car now – especially your tires. Save with Hankook Tire's Great Hit Rebate, $80 off a set of 4 Ventus S1 noble2 tires.
This is a sponsored conversation written by me on behalf of Hankook Tires. The opinions and text are all mine.