This is a sponsored post written by me on behalf of DoubleDown Casino for IZEA. All opinions are 100% mine.
I am not a big TV watcher and can go days without turning on my TV. I know those of you that turn on the TV the minute you walk in the door may not understand how someone could come home from work and not want to veg out in front of the TV but I find other ways to enjoy my free time. I cook, read, listen to music and play on my computer.
My late husband, Rick and I got married in Las Vegas, on July 4th, 1981. We were young so we did what most young kids would have done. We drove straight through from Michigan to Las Vegas. We took turns every 2 hours and drove 40 continuous hours. We couldn't wait to get into the hotel and sleep…yeah right, not so, we showered and went to the casino. I fell in love with playing the slots and roulette. I love the fact that you can now play them on your computer which is one way I wind down after a hard day at work. But I have had a hard time finding online slots that are like Las Vegas slots, until now.
I recently downloaded DoubleDown Casino on line, and they are as close as you will ever get to Las Vegas style slots, and they sound like they do in Vegas too. In no way am I an expert at playing online slots but you don't have to be in order to play them on DoubleDown Casino. I have my favorite slots I like to play like Double Diamond.
Online Slots DoubleDown Casino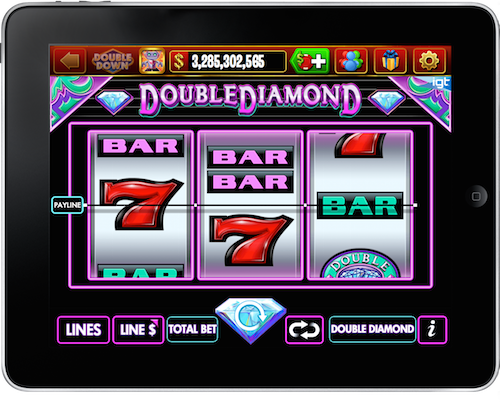 Not only do they have 50 great slots including Daily Slot Tournaments, they also have Video Poker, Black Jack, Bingo, Game King and my beloved Roulette. It is easy to download DoubleDown Casino onto your desktop, mobile, Amazon Kindle, or on Facebook. When you download it for the first time they give you 1 Million chips to play with! Yes you heard me right 1 Million. I know that seems to be a lot of chips but if you play online slots like me you will be happy to know that each day you can win free chips from the daily wheel spin. And it is all FREE so anyone can join.
Another cool thing about DoubleDown Casino is that you can play online slots and more with friends and family anytime, anywhere all in one place because DoubleDown Casino allows you to share in the excitement of winning. I mentioned they have Roulette, it is really awesome to play because you feel like you are in Vegas when you hear, "place your bets please" , and you hear the wheel spin and the number called out "21 Red". I enjoy playing both roulette and the slots however the most played game on DoubleDown Casino is the slots.
Come on take a break from the TV, play now and be a winner. Download DoubleDown Casino and play online slots and more to escape your daily routine and experience the only on line authentic Vegas style casino that is delivered right to your finger tips.
Check out DoubleDown Casion on Facebook!
So what is your favorite casino game on DoubleDown Casnio?