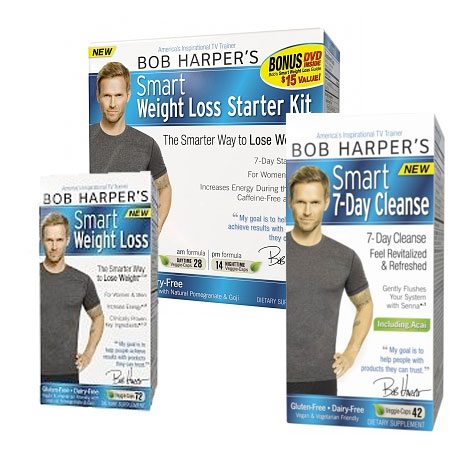 I'm a little late on the update but I mentioned two weeks ago I was going to post a Bob Harper Smart Success Weight Loss Supplement Review. I just had so much going on I haven't gotten a chance until this weekend to sit down and let you know my findings and thoughts.
First if you are interested in seeing my thoughts and results regarding the 7-Day Cleanse you can check it out here: Bob Harper Smart 7 Day Cleanse Review.
In addition to the above I was taking the Smart Multi-Vitamin and the Smart Weight Loss Supplements. I can't say much about the multi-vitamin it is so hard to assess how a multi-vitamin works so this review is about the Smart Weight Loss Supplements.
On my original post I documented my starting weight as: 178.2
After six days (I weighed myself Sunday morning) I weighed: 173.2
I lost 5 pounds during the six days. I took the supplements as instructed 30-minutes before my meal three times a day. I followed my own eating plan which was healthy and my calories averaged about 1200. I also was working out and worked 3-4 times during the week. My workouts were weights at the gym, and some low impact exercises with the Kinect. I did run one morning.
I am not a believer in a supplement that "causes" weight loss I don't believe in such a thing. If you are looking for a supplement to take that is just going to melt off the pounds you are going to be looking a long time. I use to not believe in appetite suppressing supplements but in the past year I have changed my feelings. This is what I feel the Smart Weight Loss supplements are. They curb your appetite. I found that when I was taking the supplements I wasn't hungry or thinking about food. As much as we sometimes want to believe it is our will power that causes us to over eat you would be amazed at how much easier it is when your system is void of unhealthy food and your levels are even throughout the day.
The following week I did not take the supplements as religiously as I did the first and I had a harder time staying on track. My final thoughts on the supplements is I really like them as an added tool in my arsenal of vitamins/supplements to help aid me in my weight loss. I can't stress enough that this is not a miracle pill you can't just take the pill and eat as you always do and think you are going to lose weight.
I've read some reviews of the supplements and I believe that people are expecting too much out of this product. I did also see some reviews that the supplements made them feel jittery. I did not have any of these effects. I have taken things full of caffeine and I do know what that feels like. I found that after taking these supplements I did not "notice" or feel different. I just didn't think about food and was able to easier stay on plan.
I believe that weight can be lost with no supplements what so ever. I also believe that these supplements did what I expected and helped me stay on track. The supplements themselves did not cause my weight loss but they did help as an appetite suppressant. For this reason I believe they do what they are designed to do.
---
Disclaimer: I received the above product(s) at no cost to me by the company or representing PR agency. Opinions are my own and NOT influenced by monetary compensation. You may read more of my disclosure here.
---