As you might (or might not) have noticed I've switched my weigh in day to Friday, and I will be posting Friday afternoon/evening or Saturday mornings..  I just feel that Friday is a good mental day for me to weigh in as I've usually done really good at least Monday-Friday. I tend to lax a little on the weekend which basically just slows down my lose a little, however I'm ok with that it is not a race.
That said the 11 days of vacation were not kind to me at all, but I take 100% blame.  As much as I had planned to make good choices and stay on plan as much as possible it all went out the window. Instead I just enjoyed my vacation and eat what I wanted which was lots of yummy but fattening food. That said I will admit towards the end of my vacation I was feeling the effects.
We sometimes don't realize how eating healthy effects our energy, skin, and over all happiness.  I jumped right back on plan Tuesday and felt so much better after a full day of eating well and drinking lots of water. Water was another major fault of mine while on vacation. I didn't drink nearly enough of it.
Despite the set back I'm still 100% committed to get to my goal weight of 130-135. My current short term goal right now is 155. I was happy that even though I'm showing a gain for the last 2 weeks or so that I still managed to just squeak under and stay in the 150's.

Weigh in:
Beginning Weight: 168.8
Tuesday 5/17/11: 156.8
Today's weight: 159.2
Total Weekly Weight Loss Gain: 2.4 lbs
Total Weight Loss: 9.6 lbs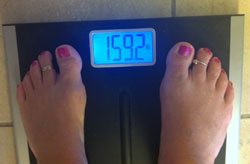 Please take a second to hop on over and cheer these ladies on as well: This Mama Loves Her Bargains, Living on Love and Cents, Our Kids Mom, Dealicious Mom, Thanks, Mail Carrier, Sippy Cup Mom, Shining 2 Save, Closer to Lucy, and The Life of Rylie…and Bryce too.
Want to lose weight and get healthy on Nutrisystem? Join today by calling 1-888-853-4689 or by visiting http://www.nutrisystem.com/nsblog
---
Disclaimer: Nutrisystem has provided me this program free of charge to participate in Nutrisystem Nation. Opinions are my own and NOT influenced by monetary compensation. You may read more of my disclosure here
---