No one likes to continue to read post regarding someones battle with weight loss when they are not winning. However that is where I am once again this week.  If I could even slightly explain the stress I was under this past week I think you would understand. However some very good things came out of my stressful week that has relieved my stress and this week I feel like a new person.  It is amazing how stress plays such a large role in our overall health and eating habits. I for one am a HUGE stress eater.  It is something I've acknowledged but still something I battle when it happens.
So today I'm going to give you some words of wisdom from Nutrisystem to help you with your own weight loss journey.  With summer upon us and 4th of July around the corner you may have a BBQ or two planned. So here are some times on how to still reach your goal while attending your BBQ.
Bring your "BBQ-esque" Nutrisystem meal of choice: Nutrisystem's Hamburgers, Chicken and Hot Dogs are great on the grill! That way you still feel part of the BBQ eating festivities while staying on program.
Wheat rolls and buns this way you give everyone a healthier option.
Following the guidelines of your grocery guide – create a garden salad with all your favorite vegetables with various dressings on the side. That way everyone can choose what dressing is best for them, but the salad also allows you to get in your add-in additions while on program. To make a complete meal, top with some grilled chicken.

 

Grill some vegetables on the BBQ a Fun way to do this and to have the kids get involved, make vegetable shish kabobs! Then all that is left to do is toss them on to the BBQ and makes a great side dish (or condiment too!).

 

Try to steer away from items drenched with BBQ sauce as this will only add in extra calories and typically is high in sugar and sodium.

 

Make sure to have iced water on hand and Toss in some slices of citrus fruits (i.e. oranges, lime and lemons) or even cucumbers too. This makes it different and is quite refreshing!

 

For dessert you can have your Nutrisystem Dessert with the group, but also have a healthy option such as fruit salad or fruit kabobs for you and your guests. The kids can even help out with making them.
Weigh in:
Beginning Weight: 168.8
Friday 6/10/11: 157.0
Today's weight: 158.0
Total Weekly Weight lossGain: 1.0 lbs
Total Weight Loss: 10.8 lbs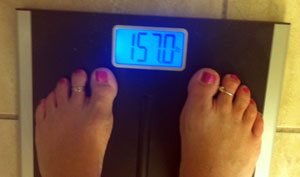 Please take a second to hop on over and cheer these ladies on as well: This Mama Loves Her Bargains, Living on Love and Cents, Our Kids Mom, Dealicious Mom, Thanks, Mail Carrier, Sippy Cup Mom, Shining 2 Save, Closer to Lucy, and The Life of Rylie…and Bryce too.
Want to lose weight and get healthy on Nutrisystem? Join today by calling 1-888-853-4689 or by visiting http://www.nutrisystem.com/nsblog
---
Disclaimer: Nutrisystem has provided me this program free of charge to participate in Nutrisystem Nation. Opinions are my own and NOT influenced by monetary compensation. You may read more of my disclosure here
---