I wanted to point out a really good post by my friend and Nutrisystem buddy LeeAnn at The Life of Rylie…and Bryce too! She wrote a great post yesterday on portion control and how Nutrisystem helps you learn how much you need to eat at each meal. You realize possibly how much you have been over eating in the past.
I had a pretty stellar week with my intentions to do really well before my impending vacation that begins this Friday. However one meal Sunday night seemed to have cost me a good pound.  I will be on vacation for 11 days with lots of fun planned.  As you may have read I'm going to LA to watch the Biggest Loser Finale, so I will be away for three days.  My plan is to pack my Nutrisystem food and stay on plan when I can but at the same time enjoy my vacation and give myself a little freedom.  I'm hoping to maintain some form of healthly habits.  I'm definitely not going on a feeding frenzy but I'm realistic in the fact that I won't be eating strictly on the Nutrisystem Plan.
Next week my Nutrisystem update will more then likely appear on Friday since I will be out of town on Tuesday. In addition I have plans on Thursday.  Despite my Sunday evening meal I did still manage to lose a little this week. Not exactly the number I was hoping for since I know I was weighing less during the middle of last week but a loss is a loss and I will definitely take that.  What I love best about the Nutrisystem Program is my ability to get right back on plan even when I venture off a little here and there.
Weigh in:
Beginning Weight: 168.8
Tuesday 5/10/11: 157.6
Today's weight: 156.8
Total Weekly Weight Loss: .8 lbs
Total Weight Loss: 12 lbs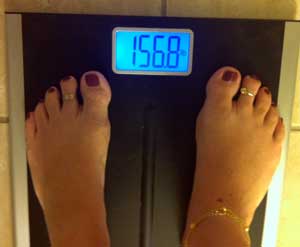 Please take a second to hop on over and cheer these ladies on as well: This Mama Loves Her Bargains, Living on Love and Cents, Our Kids Mom, Dealicious Mom, Thanks, Mail Carrier, Sippy Cup Mom, Shining 2 Save, Closer to Lucy, and The Life of Rylie…and Bryce too.
Want to lose weight and get healthy on Nutrisystem? Join today by calling 1-888-853-4689 or by visiting http://www.nutrisystem.com/nsblog
---
Disclaimer: Nutrisystem has provided me this program free of charge to participate in Nutrisystem Nation. Opinions are my own and NOT influenced by monetary compensation. You may read more of my disclosure here
---