I know sadly I'm done with the 10-day challenge. If I can get my butt in gear I want to do one more post regarding my overall experience with the plan. However today I'm letting you in on one of the BEST parts of the Nutrisystem Plan. The DESSERTS!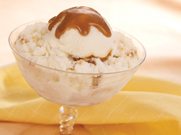 It is kinda hard to pick a favorite dessert, I mean come on they are DESSERT they are all my favorite. However if I had to pick one it would be the Caramel Swirl Sundae.  Probably because I love caramel. One of my favorite desserts is the Reese's McFlurry at McDonald's and I have them add caramel. That is not the point, this little cup of heaven here really hits the sweet tooth after dinner.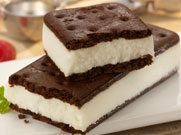 The Ice Cream Sandwich is pretty close to the Caramel Sundae. I love the chocolate layers with ice cream in between. Like an oreo the best part (to me) is the outside (you thought I was going to say middle didn't you?)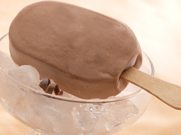 Nothing beats a bar of smooth ice chocolate. Ok except the caramel sundae and the ice cream sandwich.  I only got one of this in my package, but now that I'm thinking about it I should have gotten two of everything. Hey HONEY! Did you eat one of my Chocolate Fudge Bars?
I saved the best for the last the Asian – Style Beef. This meal was excellent. So much so that my daughter not only asked to try it but did end up sharing it with me. I couldn't say no to those baby blues. She loved all of it, the broccoli, rice, and beef. So not only did I really enjoy it but my 5 year old daughter also gives this meals two thumbs up. It is great for those days when you might be craving a little bit of Chinese!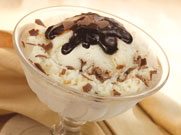 The Fudge Swirl Sundae of course is very similar to the caramel swirl except it has…well….fudge instead of caramel, go figure.  This dessert was good but I'm not a huge fan of ice cream and fudge unless it is also smothered in caramel and nuts. Now THAT is a sundae. However it didn't keep me from eating both of my cups in the least!
I hope you have enjoyed my review of the 4 meal program from Nutrisystem Frozen Breakfasts, Nutrisystem Frozen Lunches, Nutrisystem Frozen Dinneres, and the Frozen Desserts. Stay tuned for an additional post regarding my overall thoughts and feelings about the Nutrisystem Program.
---
Disclaimer: Nutrisystem has provided me this program free of charge to participate in the Nutrisystem Nation 10-Day Challenge. Opinions are my own and NOT influenced by monetary compensation. You may read more of my disclosure here
---