The holidays are upon us LITERALLY. The cold and snow is in the air (for most parts of the country) and holiday music is piped through the stores as we rush to do our last minute shopping. Usually we are thinking of ourselves, our family, and what preparations we need to get done for the big day. While many of us are fretting over finding the perfect gift or how many place settings we need others are lucky to be eating or even enjoy a warm place to sleep.
This is why I'm excited to let you know about a wonderful program in which you can nominated a Holiday Hero and give them back a little of the extra special love they give to others.
TYLENOL® Holiday Heroes
'Tis the season for more giving, sharing and caring, and more baking, shopping, wrapping, and cleaning – which sometimes means more aches and pains. Many people go above and beyond at the holidays to show others just how much they care. This contest encourages consumers to honor their Holiday Heroes by submitting a photo and story for an opportunity to make their holiday season a little easier.
I'm going to tell you about my Holiday Hero, she will forever be my hero. That person is my grandmother. My grandmother was a beautiful soul who passed away many years ago in 1991. I will forever remember her kind loving spirit and how she loved to help others. My grandmother help others not just during the holidays but also each and everyday of the year as a volunteer at her local hospital.
My grandmother was not only a volunteer but she was the only volunteer to be made an honorary life member of the hospital's auxiliary. She volunteered at the Friend of Catholic Social Services and the Museum of Arts and History in her town. She never missed the annual spelling bee because she wanted to be there to hug each and every contestant and wipe away any tears and let them know what a great job they had done.
My Holiday Hero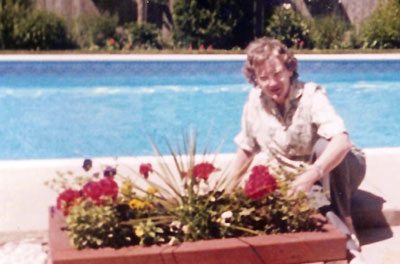 My grandmother continued to care about others right up until the day she passed away after a long fight with cancer. A fight that she was told would claim her life in a couple of months. Cancer had no idea who they were up against because that couple of months stretched on for over a year. She continued to care for her family, friends, and strangers during the fight that would often leave her exhausted. The day before she passed away a friend came to visit and the first thing out of her month was, "How are you doing?" she always had a way of making you feel important and loved.
Know someone who goes above and beyond for others during the holiday season? Honor your Holiday Hero on the Holiday Heroes tab of the TYLENOL® Facebook page by visiting www.tylenolholidayheroes.com. Submit a photo and story for the opportunity to win one of five great prizes**:
A Spa Day
A Chef To Cook A Holiday Meal
A Limo For A Day of Shopping
A Cleaning Crew Before and After The Holiday Gathering
A Holiday Lighting Or Card Distribution Service
I encourage you to stop by and nominate your own
Holiday Hero
and Facebook as well
* Use TYLENOL® only as directed.
** Entry takes place on the Holiday Heroes tab of the TYLENOL® Facebook page. No purchase necessary. Open to legal residents of the 50 U.S. & DC, 18 or older. Contest ends 1/3/14. Void where prohibited. Subject to Official Rules, available at www.tylenolholidayheroes.com.