School is around the corner, in fact here in Florida the "meet your teachers" have been scheduled and even taken place in some areas. One of the most purchased school supplies is the "backpack". Ok not really I'm sure more pencils and papers are purchased but it is a big purchase. Your child may want a Frozen back pack, or one with wheels (if they are allowed), or a specific brand. We of course search for what they want.
Though times have changed and in our school district kids are bringing home less school books (opting for online books instead) some how the backpacks still remain heavy. My husband use to marvel at how my daughter, in 2nd grade, had such a heavy backpack. If he looked inside he would see it was because she wanted to bring 15 library books to school to share with her friends. My son's walk home from school, which seems to make backpacks heavier with every step. My oldest son was telling my daughter how his backpack really hurt his shoulders. However I have found the solution with the Airbac backpack.
Airbac Backpack
I decided to let Honey pick out a backpack for school, though in hindsight I think it would have been better to let one of my sons do the honors. Honey picked out the Jungle Backpack as she totally loves the cheetah pattern.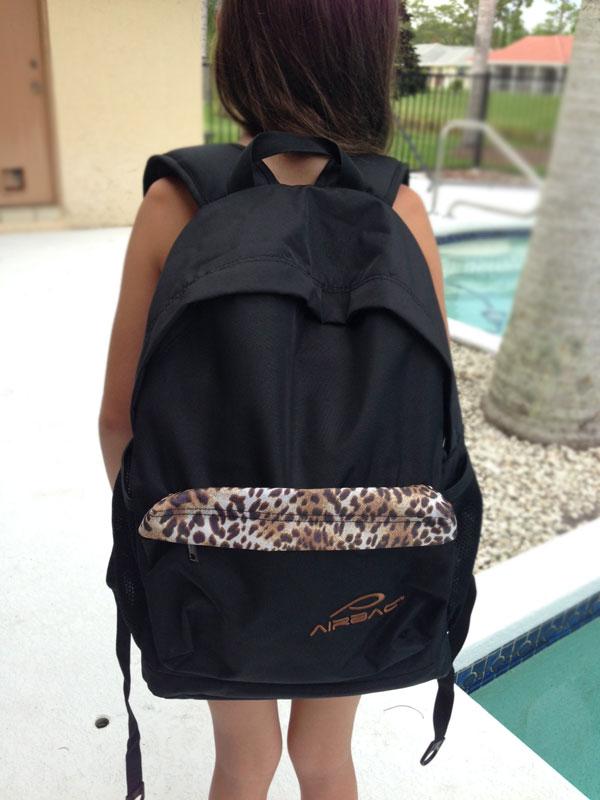 Airbac Features:
Feels Like You're Carrying Half The Weight – Our AIRBAC™ patented air support system allows the weight in the backpack to rest comfortably just above the waistline, to literally take the weight off your back and shoulders. You'll feel the difference immediately!
Promotes Better Posture and Spinal Alignment – AIRBAC™ technology enables your body to relax in an upright position (as opposed to a hunched over position to compensate for the extra weight). That's why AIRBAC™ is endorsed by back specialists nationwide. Click here to view our Scientific Study.
Built-In Shock Absorbers – The weight of every step you take— running or walking—is absorbed by AIRBAC™ instead of your back, thanks to our patented air support system.
Easily adjusts to fit any body type – Whether you're young or old, tall or short, slim or have more to love – the AIRBAC™ padded shoulder straps andpatented air support system adjust to a customized fit.
Outstanding Air-Cushioned Protection – The same patented AIRBAC™ technology that protects your back, protects the contents of your AIRBAC™ too.
I decided in order to review this properly I had to give the backpack a try myself. We wanted to compare the difference so we put all of Honey's school supplies in her "normal" backpack and both tried it on. We then transferred everything to the Airbac backpack and both tried it on. I was totally AMAZED by the difference. Immediately I could tell that the weight was no longer sitting on my shoulders and I wasn't forced to lean forward to hold up the back pack. Honey is very sensitive and touchy when it comes to different material and decided she did not care for the bumps and ridges in the backpack. However I actually thought they made the backpack feel much more comfortable.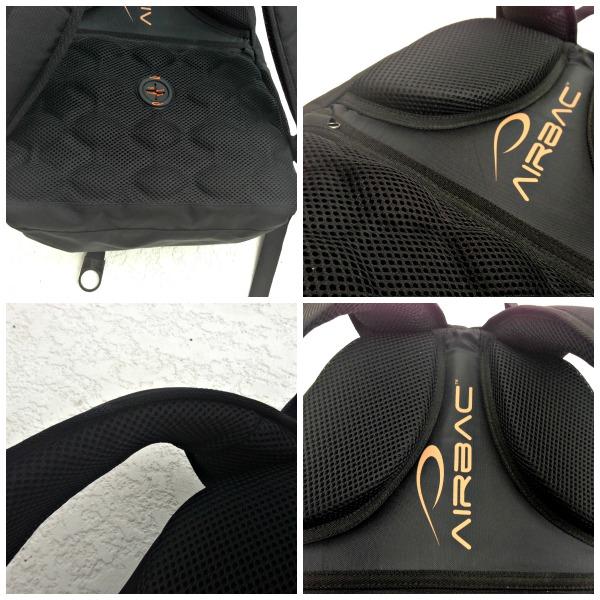 I thought maybe this would be the answer for my son but he tried it on and also was not a fan of the ridges. At the end of the day mom got a new backpack for trips. I really do think this backpack is amazing and does what it says it does. We haven't used it enough to see if it will stand the test of time but for now this mom supports it 100%!
I received the above products or was compensated for this post.