On one hand, laundry can be the bane of a busy Mom's existence. On the other, this busy Mom loves the smell and feel of freshly laundered clothes, towels, and especially sheets. I want to make sure my family looks their best with no stains or stale smells. That being said, I've never really thought of doing laundry as anything other than necessary and certainly not cool or fun. Until now. Crystal Wash 2.0 is bringing laundry into the technology age and I'm excited to share with you what it is and what it can do.
Crystal Wash 2.0
Crystal Wash is pretty neat as it is. I try to limit the chemicals that we eat and with Crystal Wash I can limit those we wear and use as well. It cleans laundry without detergents, chemicals, or perfumes. All those icky things that can irritate your skin. How is this accomplished? Through the power of bio ceramics from the Earth. They naturally and gently clean laundry. They even reduce contaminated waste water that gets filtered back into the water supply. They lower required rinse cycles and even reduce CO2 production by using less energy than a normal wash cycle with regular detergent. The bio ceramics collect odors, dirt and waste from your laundry. They raise the water in your laundry machine to a pH level of 8.5 or higher which shrinks the water molecule clusters that enables them to naturally remove dirts and soils. They also create hydrogen peroxide which disinfects and kills bacteria and odors.
Did you see that I mentioned that it "collects odors"? I have two teenage boys and a husband. That is three boys/men in my house that can look out the window and start sweating and stinkin'. I don't know what it is with the male species but they can seriously bring home some odor from the park, gym, or just anywhere. I often tell my son that he needs to but his clothes directly into the wash and don't let it sit in the laundry basket, because the smell can knock your socks off!
Crystal Wash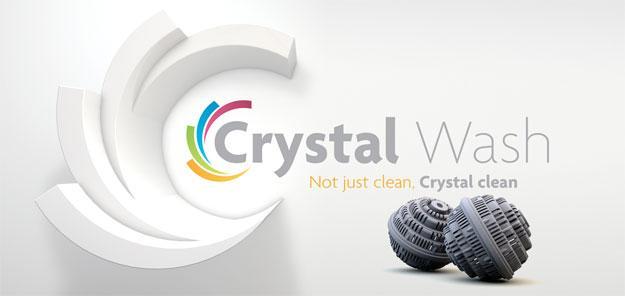 As the bio ceramics are hard at working collecting all the junk from your laundry, they eventually need to be recharged to make sure they are doing their job with the proper pH levels. In order to charge them, you put them in the sun for an afternoon. How's that for low maintenance?  The only problem is, people often forget to recharge the bio ceramics which decreases the effectiveness of Crystal Wash. That's where Crystal Wash 2.0 comes in. It's the "connected" version that links directly to your smart phone, reminding you to recharge! Amazing, and I think they had me in mind when they created this because I need an app, alarm, poke, or you name it to remind me about everything!
By embedding a state-of-the-art pH water sensing chip and a micro-controller with Bluetooth capability inside the current Crystal Wash, we can give users accurate recharge alerts so that they don't have to remember when it is time to put them in the sun.
While Crystal Wash 2.0 is hard at work on the ins and outs and how to fit all this coolness in the sensor of the bio ceramics, they are adding in other app features as well including:
Real-time Wash pH Levels
Recharge Alerts
Wash Complete Alerts
Wash Cycle Tracking Stats – Graphs, Counters, Social Sharing
Savings Tracking
Crystal Wash – Wash Cycle Counter – Time to order new Crystal Wash
Stain guide
Label decoder
This app tells you when your laundry is done and so much more. I'm looking forward to technology enhanced laundry and I'm hoping the folks at Crystal Wash develop a way to conquer the dreaded chore of folding and hanging the clothes next. Head over to the Crystal Wash 2.0 Kickstarter page to learn more on what their next steps are and how you can be a part of it.
Even better…the Crystal Wash will save you money! The cost of 1000 load of laundry with detergent is approximately $300 but the Crystal Wash is $50. That is a $250 savings!
How many loads of laundry do you do a week?