I have not been treating my hair well the last couple of years and my nails and I have never been best friends. Every time I help my son cut his nails I comment on how unfair a guy has such gorgeous nails that grow like crazy. I always manage to break mine once they start getting long. I have always wondered if there is anything I could take to help my hair and nails grow. I was recently sent a handful of products for just this from NeoCell.
Note: *These statements have not been evaluated by the Food and Drug Administration. This product is not intended to diagnose, treat, cure or prevent any disease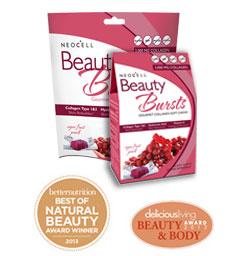 Fruit Beauty Burst
Having beautiful & radiant skin has never been so easy- or so delicious. NeoCell Beauty Bursts deliver high absorption beauty nutrients in delectable, gourmet soft chews. Collagen Type 1 & 3 is the body's beauty protein & strengthens skin, hair & nails. Hyaluronic Acid is know as "Nature's Moisturizer" & hydrates the skin. Vitamin C is essential to boosting collagen in the skin. Together, these three beauty nutrients work together to build beautiful skin from the inside out.
I enjoyed the taste of the fruit beauty burst and to be honest they felt like I was eating a treat instead of taking a vitamin. That is always the best way to take a vitamin don't you think?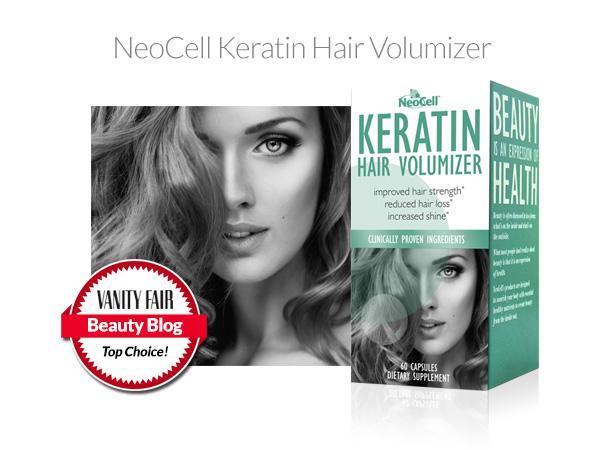 Keratin Hair Volumizer
Keratin hair volumizer is an all-natural solution for strong, lustrous, and thickhealthy hair that starts from the inside. Dry, brittle,thinning hair is associated with a lack of nutrients thatare essential to strong and resilient hair. Keratin HairVolumizer contains clinically proven ingredients toenhance hair strength and reduce normal hair loss.
I think this is the key to what you need to help strengthen your hair. I will say that I often lose a lot of hair in the shower but after taking these I noticed it stopped. While taking the Keratin Hair Volume I was also coloring my hair so it is hard to really see if there is a difference as I was damaging it while I was taking the volumizer. I have noticed however that my hair is finally growing. I swear I have the slowest-growing hair ever. Either that or my hairdresser is scissor happy! At one point my hairdresser cut my bangs despite my very curt NO when she asked if she could. I can tell that they are finally growing out and I'm considering getting some of my damaged hair cut off so I can start fresh with both a new do and the Keratin Hair Volumizer.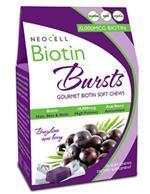 Biotin Burst
Having beautiful and radiant skin has never been so easy- or so delicious. NeoCell Biotin Bursts deliver high potency beauty nutrients in a delectable, gourmet soft chew. Formulated based off of scientifically proven ingredients NeoCell Biotin Bursts offer a delicious alternative to your daily biotin regimen. Each chew is low in sugar and was especially formulated to be as readily absorbable as possible in delicious Brazilian Acai Berry flavor. Healthy hair and skin were never this easy, or sweet!
I've heard nothing but great things about Acai over the years I love that they have incorporated it into a delicious product for your skin. I loved the taste of these and definitely an added bonus to my new hair and nail regimen.

Radiance Serum
Collagen plus c liposome serum is a skin defense serum that rejuvenates the skin with a potent topicalantioxidant, guarding against sun and wind to minimize dry skin and wrinkles. It contains fat-solublevitamin c and vitamin e as well as phospholipids (naturally contain essential polyunsaturated fatty acids). Enhances the skin's firmness,elasticity, and moisture
I absolutely love this stuff, it makes my face feel so smooth. As someone with dry skin, this definitely helps!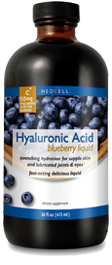 Hyaluronic Acid
HA is one of nature's most water loving molecules and its role in the control of tissue hydration and water transport in the body helps support the appearance of smooth, supple skin, as well as provide lubrication to the joints and eyes. NeoCell Hyaluronic Acid Blueberry Liquid is a naturally delicious dietary supplement that replenishes the body's HA supply. It is enhanced with the antioxidant power of Pomegranate and Green Tea, blueberry, and the absorption benefits of Ionic Minerals. This elixir uses Agave nectar as a low glycemic index sweetener
I actually have not yet tried this as I felt I was already taking quite a lot, however, I'm ready to see how it works. Throughout the trial of these products, there were days I missed taking them. I'm not sure why I have such a hard time taking vitamins or pills of any kind. However, I did use them for the majority of the time and think they work pretty well. I'm anxious to see how my hair does now that I have stopped coloring it!
As you can see it is starting to look longer and healthier and you can see my bangs are finally getting closer to my chin!
About NeoCell
NeoCell has been developing and manufacturing all-natural, premium anti-aging formulas for over 20 years and is the leading collagen brand in the world. Our products are naturally based, not synthetic, and are designed to promote youthful health, beauty, and total body wellness. We manufacture our own products using carefully sourced food-grade raw materials and our facility exceeds all GMP standards. We strive to continuously bring the best to our customers– products that we and our own families are proud to use, made with Nutrients You Can Trust®.