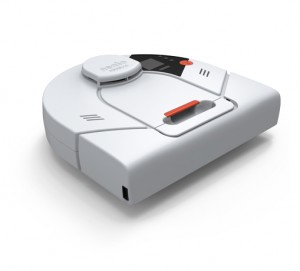 Our Personal Pick
One thing I'm not very found of is cleaning, but then who is right? With a full time job, kids, and blogging it leaves very little time to properly clean. This is why I now have a regular house cleaning service come once a month. However that still leaves 4 weeks in between cleaning. With five people in our home it can often lead to a messy house. Everyone coming in and out tracks in dirt and dust builds up. I'm trying to streamline things and do anything I can to help me efficiently keep things together. This is where Neato comes in. Have you heard of this awesome little gadget?
I have to admit I was skeptical at first that Neato could do its job.
It Scans, Maps and Plans.

Most other robot vacuums move around a room at random. They bump into walls, bump into furniture. They go in circles, cleaning some spots several times and others not at all. But Neato knows exactly where it's going at all times.
Its remarkable laser eye uses infrared light to scan the surroundings five times every second. The result is a highly accurate 360° map of the room and any obstacles. Then the robot efficiently cleans in a pattern of straight, overlapping lines.

It's Not a Sweeper.

A lot of robot "vacuums" are really just sweepers. Their low vacuum power is merely an add-on. But not the Neato. It's the most powerful robot vacuum available today. At the core of every Neato is a centrifugal compression-impeller that uses jet engine airflow principles to create high-powered suction. You can count on it to pick up everything a traditional vacuum would–dirt, pet hair, dust, cereal, and more.

Obstacle avoidance

As it moves around a room, the robot's sensor enables it to avoid obstacles like furniture, walls, stairs and pets.

It takes care of itself.

A Neato can handle large floor plans, because it automatically recharges its batteries. When it's low on power, the robot simply returns to its base and recharges. Then it returns to clean, right where it left off.

Bagless

With a Neato there are no bags to buy or throw away. All the dirt and debris is collected in the Neato's top-loading dirt bin. When the bin is full, you simply empty it into your trash.

Easy scheduling

Set a schedule and the Neato will automatically clean at the time you set—daily, every other day, or 3 times a week.

Pets and allergies

Breathe easy, there are Neato models specifically designed for pet owners and allergy suffers. They feature two very special tools for removing allergens from your home. The bristle brush traps pet hair and lifts it from the surface. Then the special pleated filter removes particles from the air stream down to 3 microns in size, including mold, spores, cat and dog dander, dust mites, pollen, textile and carpet fibers.

All floors are covered.

Unlike some vacuums, Neato robots are designed to work on all types of surfaces. So it can go from the carpet in your living room right onto the tile in your kitchen.

It cleans where you don't.

There are places in your home that don't get vacuumed very often (or at all), because they're so hard to reach. A Neato robot is only 4" high, so it can scurry under beds, couches and other places regular vacuums can't go.
When I first received my Neato I plugged it in and watched it work for about 5 minutes before I turned it off. I just wanted to make sure it would work. A couple of days later I sat down to really learn about it and found that you can schedule your cleanings. So I decided to give it a try and see what happens, guess what happened? Nothing. I started having problems where the menu just wouldn't stay on.
I called the customer service number after failed attempts at trying to get it to work.  The representative had me do a few things with the Neato and after about 5-10 minutes concluded that it was defective. No questions asked she shipped me out a new one with a return label for the old one. I was amazed at the no hassle customer service and that they were shipping out a new one immediately. This is A+ customer service from Neato in my book.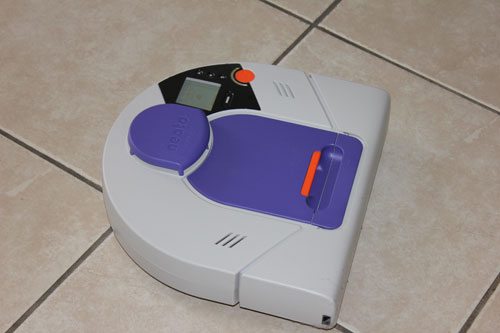 The new one came out and I hooked it up and scheduled it to clean. It turns out that you do need to let the Neato run once on its own before the schedule will take. Or at least that is what happened to me. The schedule would not take but then I hit start and it started to clean. I stopped the cleaning, put it back on the charger and sure enough it worked like a charm on its scheduled time.
The Neato is AMAZING, I truly mean that, I recommend this product with 100% confidence. I have it on a daily schedule to run Monday through Friday when everyone is away from the home. The first day when I came home it was stuck in the middle of the room because it had picked up too much dust/cobwebs from under the furniture and got lost. I found it sitting there with a message that asked me to "clean me so I can see". However after that I returned home to find it on the charger.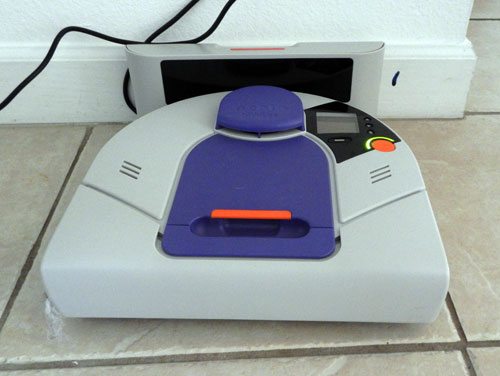 I had to wonder if it was running while I was gone. Thursday came about, Thanksgiving, and right on cue at nine am Neato powered up and began its daily routine. I watched it for about half an hour to see what it did. It is very thorough going over some spots many times. I was amazed by how accurate it is. I watched it go in a circle in what appeared to be a scan of the room. It then would begin its trek around the room. As it neared furniture it would go around it. It will bump into things very slightly but immediately back up and go around it. I took this video of Neato doing its work as it made its way out into the foyer. Notice how it goes around the table and along the edge. When it is done it does a back and forth pattern to clean the area it had outlined.
My house is VERY open, we have the family room, dining room, kitchen and kitchenette, living room and hallways. This little machine makes its way through each of these rooms when it cleans daily. We keep the door to the rooms closed because there is just too much going on in the bedroom with chargers, cords, and toys that I don't feel safe allowing it to roam around.
One thing I love about the Neato other then it is just plain COOL is if it encounters a problem it tells you what that problem is. For example my husband yelled to me that my "thing" was stuck in the living room. When I went to inspect it, it said, "there is something caught in my brush please remove it". There was a string from the carpet that had gotten tangled in the brush. Once I removed it and hit "Okay" Neato went right back to work.
Neato knows when it is getting tired and running out of juice. When this happens it makes a beeline for the charger. It will dock itself and recharge before it gets back to its job. Before leaving for our Thanksgiving dinner Neato had made two rounds and was charging one more time. Neato will make three rounds to get your floors clean. After the third round it will rest until the next scheduled day or spot cleaning.
Emptying the filter is just as easy as scheduling. Simply remove the little bin, dump it out and you are ready to go. My kids heard me all morning exclaim my love for Neato. I honestly think this is an awesome gadget to have around the home. It really helps take some of the elbow grease out of cleaning. I mean what more can you ask for then a machine that will vacuum for you!
For this reason, this is one of our number one picks for the holiday season. Now be careful guys and make sure your significant other is happy with gifts around the home. My husband will tell you that a gift like this pleases me much more then jewelry. The fact that all I have to do is plug in and it keeps my floors clean is a major "must have" for me, much more useful then jewelry and definitely a beautiful site.
---
Disclaimer: I received the Neato Robotics XV-21 for the purpose of this review. All opinions are my own. You may read more of my disclosure here.
---