Bad breath can be a real confidence killer. It's embarrassing and can make you self-conscious in social situations. Luckily, there are ways to get rid of bad breath naturally. Keep reading for more information to help you fight bad breath and feel more confident.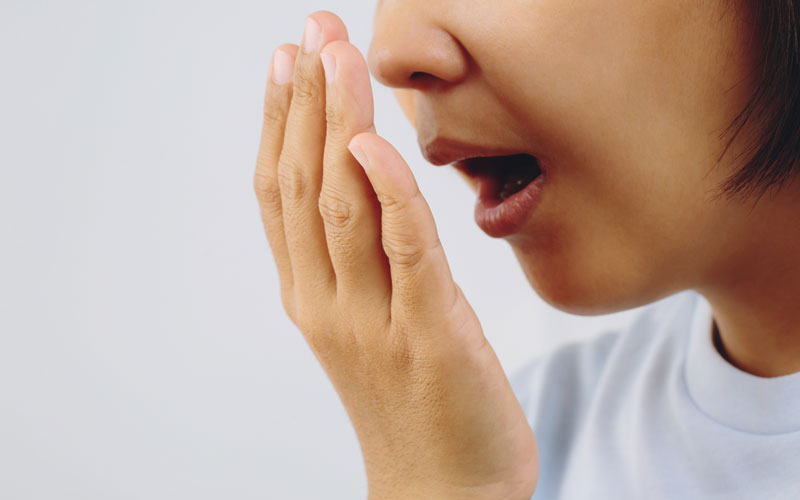 What Causes Bad Breath?
Bad breath, also called halitosis, is embarrassing and even causes anxiety. There are many possible causes of bad breath, such as:
Poor Oral and Dental Hygiene
When food particles and bacteria are allowed to build up on the teeth and tongue, they can release foul-smelling gases that cause bad breath.
In addition, unwashed gums can become inflamed and infected, leading to an unpleasant odor.
Eating Certain Foods
Most people are aware that bad breath can be caused by eating certain foods, but they may not know precisely why this is the case.
There are two main reasons for this.
First, certain foods contain odor-causing agents that can linger in the mouth and contribute to bad breath.
Second, when we eat food, bacteria in the mouth start to break it down and release gas that can also cause bad breath.
Some of the most common offenders regarding bad breath include garlic, onions, spicy foods, and dairy products.
Smoking
When you smoke, the nicotine and tar in the tobacco stick to your teeth and tongue, providing a perfect breeding ground for bacteria. These bacteria produce compounds that give off an unpleasant odor, and no amount of gum or mouthwash can mask it.
Drinking Alcohol
Drinking alcohol can cause bad breath for several reasons.
First, alcohol is a drying agent, which can reduce saliva production in your mouth. A dry mouth isn't good. Saliva is important because it helps to cleanse the mouth of bacteria and other particles that can cause bad breath.
Second, when you drink alcohol, it is metabolized by the body and excreted through your breath. This process can cause a distinct smell that many people associate with bad breath.
Finally, alcohol can also lead to dehydration, further contributing to bad breath.
Gum Disease
Many people are self-conscious about bad breath but may not realize that the cause could be gum disease.
Gum disease is an infection of the gums and can occur when plaque is not removed adequately from teeth. Plaque is a buildup of bacteria, food particles, and saliva. If plaque is not removed, it hardens into tartar, which can only be removed by a dentist or dental hygienist.
Tartar irritates the gums, causing them to become red, swollen, and prone to bleeding. Gum disease can damage the gums and bone surrounding the teeth if left untreated, eventually leading to tooth loss.
In addition to causing tooth loss, gum disease can also cause bad breath. This is because bacteria from the infection can cause an unpleasant smell. If you are concerned about bad breath, it is important to visit your dentist to check for signs of gum disease.
Tooth Decay
One of the most common causes of bad breath is tooth decay.
Plaque and bacteria build up on teeth can lead to cavities. As the decay progresses, it can reach the tooth's pulp, causing an infection. The infection can cause bad breath by releasing foul-smelling particles into the mouth.
In addition, the decay itself can emit a bad odor.
While bad breath is usually not a sign of a serious medical condition, it can be a big social downer. The good news is that bad breath is often preventable and treatable.
Natural Remedies for Bad Breath
While bad breath can be embarrassing and difficult, some natural remedies can help.
Parsley
Parsley is a herb that has long been used as a natural breath freshener. This is because it contains a compound called chlorophyll, which has antibacterial properties.
Chewing on a sprig of parsley can help to neutralize bad breath by killing the bacteria that cause it. In addition, parsley is a good source of vitamins A and C, which can help to boost immunity and fight off infection.
So, next time you're looking for a way to freshen your breath, reach for some parsley.
Gum
While many commercial products treat bad breath, chewing gum is a natural and effective remedy.
The act of chewing gum stimulates saliva production, which helps to cleanse the mouth and remove bacteria. In addition, chewing gum also helps to freshen your breath by releasing essential oils into the mouth.
For best results, chew a piece of gum after meals or whenever you notice that your breath is starting to smell bad. Gum is a simple and convenient way to keep bad breath at bay.
Pineapple Juice
Pineapple juice contains an enzyme called bromelain, which effectively treats bad breath. Bromelain works by breaking down the proteins that cause bad breath.
In addition, pineapple juice is also a natural source of vitamin C, which has antimicrobial properties that can help to keep the mouth clean and free of bacteria. As a result, pineapple juice is an effective and natural way to treat bad breath.
Yogurt
If you're looking for a natural remedy for bad breath, yogurt may be worth a try. Plain yogurt contains beneficial bacteria that can help to fight the bad bacteria that cause bad breath.
In addition, the lactic acid in yogurt can help break down plaque and food particles stuck on your teeth. For best results, eat a couple of spoonfuls of plain yogurt daily.
You can also try using yogurts with probiotics as a mouth rinse. Simply swish the yogurt around your mouth for 30 seconds before spitting it out. Probiotic yogurts may also help to reduce gum inflammation and promote oral health.
Baking Soda Homemade Mouthwash
Often, bad breath is caused by bacteria in the mouth, and one way to fight bad breath is to use a natural mouthwash that contains baking soda. Baking soda is a natural antibacterial agent that can help kill the bacteria that cause bad breath.
To make a homemade baking soda mouthwash, mix one teaspoon of baking soda with one cup of water. Rinse your mouth with the mixture for 30 seconds, then spit it out.
You can use this natural remedy once or twice a day to help freshen your breath and keep bad bacteria at bay.
Warm Salt Water
While there are many store-bought remedies for bad breath, warm salt water is a simple and effective natural bad breath remedy that can help to freshen your breath and kill bacteria.
Simply mix one teaspoon of salt with 8 ounces of warm water and gargle for 30 seconds. Rinse your mouth thoroughly with fresh water afterward.
Salt water can help to cleanse your mouth and throat, remove food particles, and kill bacteria that cause bad breath. For best results, use this remedy 2-3 times per day.
When to See A Doctor
Some bad breath odors are so strong that they require a stronger-smelling agent to eliminate the smell. Alcohol breath, for example, can be masked by eating smelly foods like garlic or fish.
However, bad breath that doesn't improve with home remedies may signify a more serious condition. See your doctor to rule out any underlying causes if you're concerned about your bad breath.