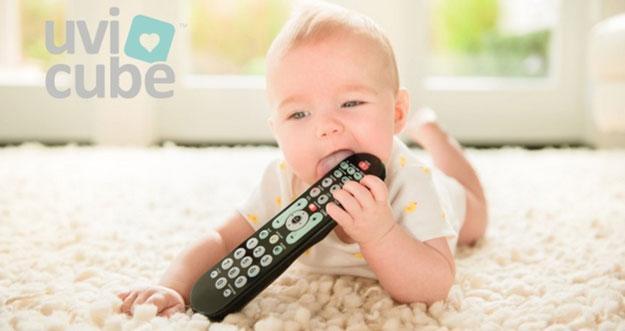 It is not often I come across a new up and coming product and say, "What the heck took so long?" Or "That is the coolest thing!" Well that is exactly what happened when I was recently approached about a new product, that was getting ready to start a Kickstarter campaign, called UviCube (note they are no longer a kickstarter program as they reached their goal). Regardless of our best attempts to keep things clean, germs find there way back to anything and everything. My nose is sensitive to strong smells so I've always tried to find ways to clean and sanitize without using harsh chemicals. I've also worried about how safe those chemicals are. I mean when you can't pronounce what it's made of, how do you use it with ease? I want to know things are clean and safe for my family. That's where UviCube comes in. It uses UV light to sanitize everything from baby bottles to remotes for your television. It eliminates 99.9% of harmful bacteria without hot water or steam, or harsh chemicals.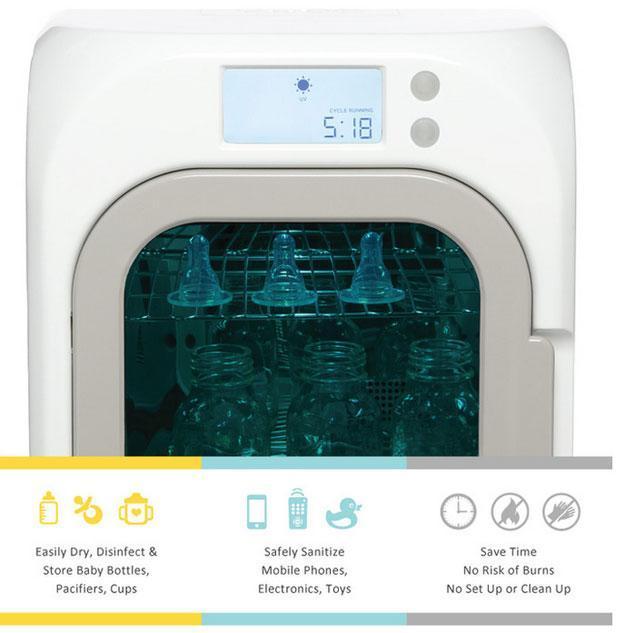 The UviCube is a cube shaped device that is small enough to fit in any room. It has been designed for low energy consumption, using less energy than a computer and monitor per year. When sanitizing items such as baby bottles, cups, and toys that are wet wash normally and shake off excess water. Place into the Uvicube and hit start, the drying and sanitizing process takes less than an hour. Store the items in the UviCube until their next use. Items that are dry such as remote controls and other electronics need to be turned off then put in the UviCube, then hit start. This cycle is much faster and is perfect for items that can't be exposed to water or steam.
Eliminates 99.9% of Harmful Bacteria
UviCube was found to eliminate 99.9% of harmful bacteria by nationally recognized, third-party ISO 17025 accredited test facility in the United States and in compliance with U.S. and international regulatory requirements for independence and impartiality of lab data. The study was conducted using Pseudomonas aeruginosa, Klebsiella pneumoniae, Staphylococcus aureus and Escherichia coli.
UviCube will submit its results to the appropriate states requiring these filings in order to distribute the product in those areas.
Any device that makes disinfection claims is regulated by the Environmental Protection Agency (EPA). UviCube follows the guidelines set forth by the Agency in making disinfection and sanitization claims, and has registered for an EPA Establishment Registration Number.
Safety Tested
UviCube is built to follow and pass the appropriate safety standards set by a nationally recognized third-party testing laboratory approved by the Occupational Safety and Health Administration (OSHA).
UviCube is built with UL rated components and materials, from its special UV treated plastic casing to its key electronics and mechanical components.
Tempered glass protects and reflects UV light back into the super high polish stainless steel inner chamber for optimal exposure.
A UL rated micro-switch automatically shuts off the unit if the door is opened during a running cycle. UV or Drying cycles will not work unless the door is properly closed.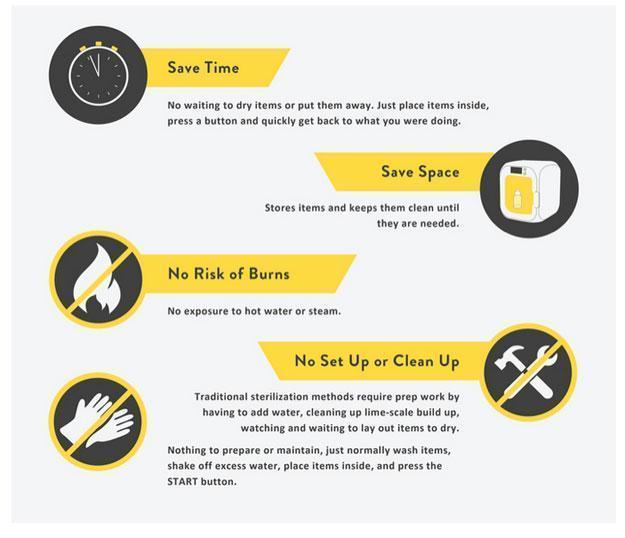 While it is geared towards families with babies in order to sanitize everything they can – and do – put in their mouths, it's a great way for families of all ages and sizes to sanitize, without the use of harsh chemicals. I especially like that it works with no prep and I don't have to wait for the cycles to be done. Time is my most precious commodity, as is with most mothers of kids all ages.  I would simply place items inside, hit the start button, and be off about my day. UviCube is a safe and effective way to sanitize numerous items around your home.  See the UviCube in action and get in early to score some sweet savings.