Sometimes as parents we get caught up in the everyday needs of our children and forget to stop and cherish their childhood moments. We are on the lookout for their first tooth, first walk, or first time they say a word. However some of the moments are more subtle and all of a sudden you realize that you have created a special moment in your child's mind. One that will last forever. Isn't it strange how you may not remember every detail of your childhood but you can recall special moments, feelings, or traditions?
I use to love to go to my grandmother's house. She always greeted us with a special gift. She had a bowl of candy in the highest cabinet above her built in desk. We had special drawers filled with our dress up clothes and fort fixin's. I remember my grandfather would always come home and have a drink with an olive (he always let me steal an olive) and always had a bowl of peanuts in a really cool looking tin bowl.
When I do things with my kids now I try to stop and think about the memories I'm creating. How they will grow up one day and still remember the small things. One thing we do every year (my mom started it) is our annual pumpkin carving party at a local park. Each year we bring our pumpkins and the kids will choose to either carve or paint and create a fun Halloween memory.
Childhood Halloween Traditions
My mom once told me that I surprised her as a mom. Not trying to be mean or anything but I was never the "kid" type when I was young. I think she enjoyed seeing that I carved pumpkins with my kids each and every year. Until they got older and rebelled I made each of their Halloween outfits by hand. Unfortunately by the time my daughter came around the boys were already requesting store bought outfits. Honey didn't want to be different and wanted to pick her's out from the store as well.
Creating Cherished Childhood Moments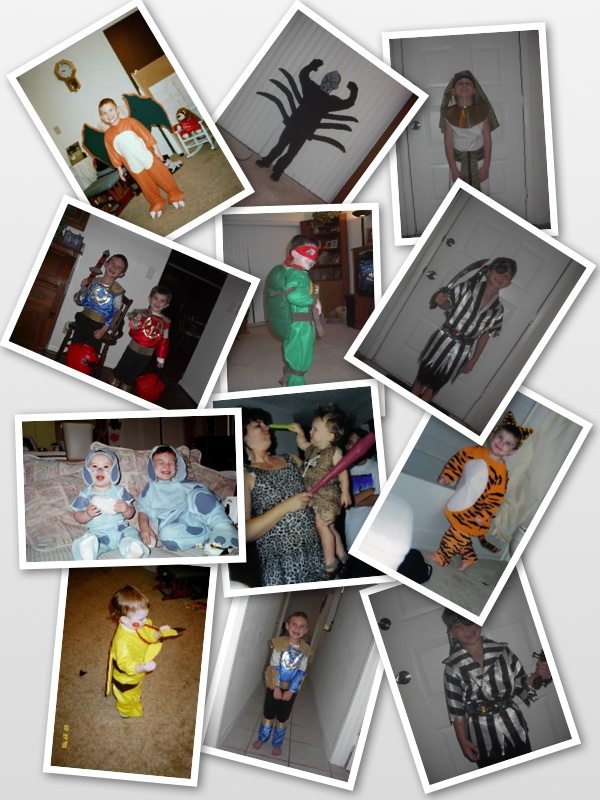 They may have grown out of the tradition but I hope they will look back and remember when mom use to make their Halloween costumes. Christmas is full of so many traditions. Christmas childhood traditions I've carried on and new traditions I've created. Each year we decorate our tree with special ornaments from my own childhood and my children's. My grandmother use to purchase an ornament for us each year. My mother has done the same and when the day comes and my children move out on their own they will have a set of unique and memorable Christmas ornaments to adorn their own tree. Each year we have our family dinner with English crackers and decorating sugar cookies.
Christmas Traditions
These are just a small portion of memories and traditions I have worked hard at creating with my children. I can think of a million more, or at least close to that amount. It is so important for parents to not only care for and guide our children but to take the time to cherish their every day moments, the memories they create, and help create a solid foundation for them to grow and take with them when they have their own families. Children grow up way to fast and raising them is just one aspect of a balanced child, they need to play, to have fun, to enjoy and #cherishchildhood. I remember as a young girl dancing in the kitchen with my mom, belting out tunes while mopping and just acting plain goofy. Let down that parent hat for just a day and be a child again.
#CherishChildhood Memories Video
Gymboree has put together this video that strikes a cord and made me smile so I wanted to share it with you. It reminded me to take off that hat and cherish the small moments with my kids. Grab that game out of the closet, crank up the music, and dance until you fall on the floor!
Gymboree Gift Card Giveaway
---
Disclosure: Thank you Gymboree for the gift and prompt for this post. All opinions are my own. You may read more of my disclosure here.
---