As promised it has been one week since I started the Medifast program, and I'm here to update you on my results and give you my initial thoughts of the program. The first thing I wanted to touch on is the balance of the program. I have been on tried so many different programs from restricting carbs to the ice cream and beets (yes beets). I am very pleased with the balance on this program and the higher importance put on Fiber and Protein which is inline with  my personal feelings of how to eat healthy.
I am rarely hungry when following the Medifast program which basis is the 5 & 1 plan. This plan means you eat 5 Medifast meals and one Lean & Green meals. Due to my belief in less carbs at night I usually eat the Lean & Green in the evening. So far I have tried each meal of the 20 different meals I chose and I have liked some and not cared for others. I have learned how to make some of them a little better to my liking. Some of my favorites right now is the Chicken Noodle Soup and Banana Shake. My daughter loves to try each meal and is not use to be telling her no she can not share. Unfortunately due to the portion sizes being for one I'm unable to share my food with her, though I do indulge her and let her try.
There are a few new products that just came out, that I have been sent to try and I will let you know my thoughts on those soon: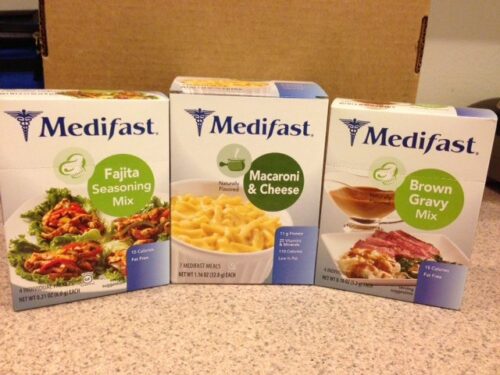 I stayed on plan all week. I only had one day when I could not eat what I would have but made what I believed was the best choice. Friday we had our annual year end event in which we were served buffet style. I know I could have brought a bar and eat that but I also did not want to disrespect my employer for what they were giving us. I chose Salmon and veggies, I'm just not sure how they were cooked (so not sure of how much fat) but of all the choices this was definitely the best.
I guess in the end right choice or not I did very well. The expected weight loss for the first week on the Medifast program is (2-5 lbs). This is low for me personally for a first week. I normally lose between 5-10 lbs with quite a lot of it being water weight. There were no exceptions this week.
Starting Weight: 180.6
Week One Weight: 172.8
Total Weight Loss: 7.8 lbs
I'm extremely happy with this start, I know this is not what to expect weekly but it is always great to start off with a bang!
Medifast Coupon Codes
Medifast has some deals for you! If you use my code, SHIBLEY56, and sign up for Medifast Advantage when you order $250+, you'll receive 56 free Medifast Meals and free shipping! You'll receive 28 free meals with your first Medifast Advantage order and ANOTHER 28 free meals with your next order! This offer is only valid if you enroll in Medifast Advantage, and it's limited to one per customer. It's not valid with prior purchases, any other promotions or discounts, or for Medifast Ready-to-Drink Shakes.

Not ready to enroll in Medifast Advantage? You can use code SHIBLEY28 to receive 28 free meals with your purchase of over $250. Limit one per customer. This offer is limited to new customers only and not valid with prior purchases, Medifast Advantage, or any other promotions or discounts.

Both codes expire on 7/31/2013. See website for complete details on program and discounts. Consult your physician before beginning a weight-loss program.
Additional MediFast Posts:
---
Disclaimer: I receive free product in order to evaluate and comment on my experiences on the Medifast Program. Medifast products and the Medifast Program are not intended to diagnose, treat, cure, or prevent any disease or illness. Any medical improvements noted while on the program are related to weight loss in general, and not to Medifast products or programs. All opinions are my own. You may read more of my disclosure here.
---