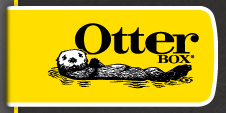 More then likely you missed my "hard lesson to learn" when it comes to electronics. If you did let me give you a quick synopsis.
Kids us iPad2 to play Atari Arcade Duo
Kids place iPad2 on empty box on the edge of the table
iPad2 NOT in case
Mom hurries to grab Honey's backpack and hits something on the table
In slow motion mom realizes what it is as the crash is heard
Yep! iPad2 is shattered when it lands face first on hard Florida tiled floor. It hit so hard some of the plastic framing around the edges broke. There is not fixing the iPad2 that was just one month old. It was more the just the screen. Hubby and I talked about and replaced the much used iPad2. It has come in handy on many occasions.
What did I learn from my experience? You MUST protect your electronics, especially if any part of it is glass. You would have thought I learned that from my long ago experience with my broken iPhone, but lets not rehash the past. So as soon as the new iPad2 was in hand my next mission was an indestructible case. I polled friends and bloggers and finally decided on an Otterbox Defender.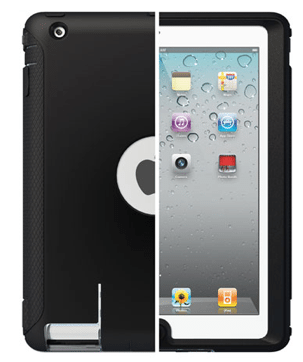 The OtterBox Defender Series for Apple iPad 2 is part of our most rugged line of cases, utilizing multi-layer technology and designed to withstand just about any environment. Don't worry about losing any access or functionality by wrapping your iPad 2 in the Defender Series; we've designed it so you can use all of the iPad's features right through the case. The inner polycarbonate shell has a foam interior to protect the back of your iPad from scratching, while the durable silicone skin works its magic by absorbing shock. The clip-on touch screen cover has a fold-out stand that offers up a convenient viewing and typing experience!
I have some pros and cons to list about my Otterbox Defender. First let's start with the pro's. The iPad is encased in multiple layers. With a hard-shell case followed by a rubber outer-case. The case is very light, what I thought was going to add some noticeable size to my iPad did no such thing. I LOVE the hard cover that covers the glass when not in use and doubles for a stand. The stand allows for two positions, one for easy typing and one for viewing. This is great feature especially if you have a recipe up while cooking.
Now for what I'm not thrilled with our improvements I think could be made. I must admit with the lightness I still fear that my iPad is not protected and I'm hoping that it is because I don't plan on testing it out. I would prefer that there be an additional shock absorbing rubber between the hard-shell case and the iPad and then the lighter rubber on the outside for more of a style feature. I myself love the color black but I can see that many people may like the choice of color. What bothers me the most is that I'm constantly pushing the rubber back into the ridge between the hard case and the iPad. It doesn't seem to stay put.

Also, I do love the cut-outs for the areas that need access but still need protection however one of the cut-outs refuses to stay in place and continues to stick out.

The extensive way of putting the case on is a pro as well as a con. It is a pro in the fact that I think it gives you more of a sense of protection as the case is fit snug around the iPad, however if you need to take the case of to play or dock it, the feature becomes a con. In fact if you need to take your case off often to dock, play certain games, or to use with a bluetooth keyboard I do not recommend this case.
Overall provided that the iPad2 is protected then I'm happy with the case. I'm hoping to have no reason to really test that out. I would say what I love most about it is the plastic cover that protects the glass when not in use and doubles as a stand.
Note: Since the posting of this review on December 30th Otterbox contacted me with no request to change my review or ask for anything from me. They read my review and saw that I was overall happy with the product but a little disappointed with the rubber piece that is added at the end. They offered to send me a new rubber piece at no cost to me with the simple statement that they want their customers to be satisfied. In fact the email I received:
I'm glad to see that overall you are enjoying the case but definitely want to help out with the issues you've been seeing. If you can't get the silicone jacket on the outside of the case to stay in place, I can put you in touch with a customer service representative who could replace it for you. We want to make sure everyone is completely satisfied with our products and do our best to provide top-notch customer service if something goes wrong.
When I received a follow up email from the customer service rep he explained that they had revised the silicone sleeve. I received the sleeve and replaced the previous one. You couldn't tell much of a difference by looking at them but so far the sleeve appears to stay in place. (When my daughter isn't picking at it). I notice that when I use the iPad the silicone DOES NOT come out of the setting. I am every pleased not only with the new replacement sleeve but with the professional manner that Otterbox took in contacting me about a replacement. They didn't need to do anything, overall I was happy with the product just that minor issue. The fact that they wanted me to be 100% satisfied was a refreshing idea in customer service. I believe I will be purchasing further products from Otterbox.
---
Disclaimer: I received the above product(s) at no cost to me by the company or representing PR agency. Opinions are my own and NOT influenced by monetary compensation. You may read more of my disclosure here.
---