What do you think about when you hear the place, Houston? Is it about good food? Most likely, especially since Houston is hailed as one of America's best cities to discover unique varieties of food—a recognition Houston truly deserves.
Do you know how culturally diverse Houston is? According to studies, Houston is a home of almost a hundred nations speaking in different languages, and what's most surprising is its population of only 2.3 million. That's why it has different cooking styles that make up its food history.
Furthermore, Houston is well-known as the Tex-Mex capital of the country. No, not Austin, but they can try again next time; or better yet, travel from Austin to Houston bus and enjoy the great feast of delicious foods the area has to offer.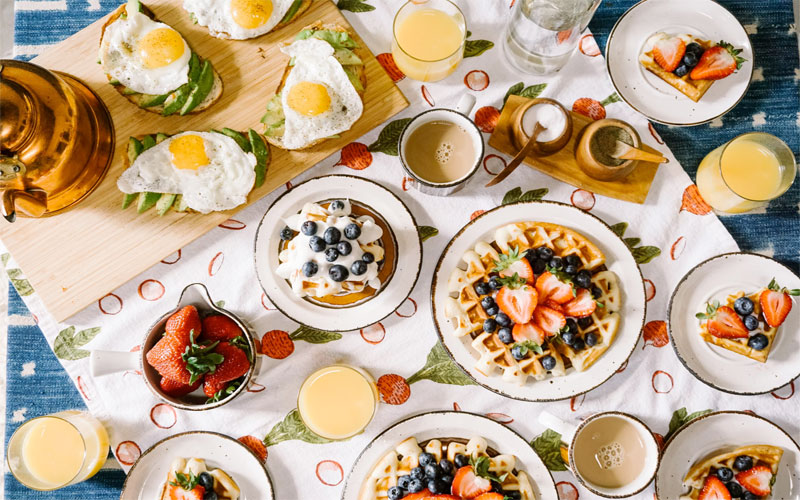 So, here are the cities top local foods to eat on your next visit:
The Best Chicken And Waffles From The Breakfast Klub
The Breakfast Klub is well-known for its humongous Belgian waffles topped with six crispy fried chicken wings. But this isn't the only good thing about them. You may also view their full menu and see other delicious breakfast and lunch options such as pork chops and eggs or grilled chicken sandwiches.
However, the place is always packed and crowded with people. So, if you plan to eat here, make sure to visit as early as possible because saving a spot in The Breakfast Klub is almost impossible.
The Chicken Fried Steak Of Hickory Hollow
This dish isn't for the faint-hearted. If you're looking for an adventurous and traditionally Southern fried chicken steak, then Hickory Hollow is the place to go. 
Prepare yourself for a gigantic slab of fried chicken that has a size of 22 to 24 ounces slathered with a generous amount of their special savory gravy. Also, you may try their bestseller, the Rancher; and if you can clean your plate, you'll be joining others who've done it before in their hall of fame.
Furthermore, Hickory Hollow is also known for its special Southern treats such as barbecues, fish steaks, baked potatoes, Southern-style green beans, and spicy jalapeño puffs.
The Tender And Flavorful BBQ Of Kat's BBQ
This place is considered a heaven for meat lovers. It's located in the suburbs of Houston and got featured on Yelp's Top 100 Places To Eat last 2019. The best dishes to try at Kat's are their classic barbecued meats such as briskets, sausages, beef ribs, pork, and perfectly crafted sides such as coleslaw, mac and cheese, and the ever-refreshing potato salad.
However, if you're looking for a great feast, you may try Kat's plate only for USD$28, which consists of pulled pork, sausages, brisket, ribs, and three side dishes. Furthermore, they're open every Wednesday to Sunday at 11 am until they're completely sold out, which comes very often. So, buckle up and visit them before they run out of food.
The Greek Classics At Niko Nikos
If you're looking for Greek staples such as souvlaki, kebob, and gyros, then you need to head out at Niko Nikos. The best dishes to try on their menu are gyro sandwiches and pita bread stuffed with lamb, tzatziki sauce, onions, tomatoes, slices of beef, and other Greek spices.
Also, they're not only good at cooking family-preserved Greek recipes, but they're also great in serving American favorites such as classic and mouthwatering Philly cheesesteaks and burgers.
The Taste Of Mexico At Mama Ninfa's
The history of Ninfa's began when they served up Mexican classics such as Tacos al Carbon, which is made using their family-produced tortilla and tender and juicy grilled skirt steak. Today, Ninfa's best dishes to try are their traditional fajitas served with flour tortillas, chile con queso, and guacamole.
Furthermore, you may want to try Ninfa's other comforting and family-crafted Mexican dishes such as tamales, combo meals, and enchiladas.
The Scrumptious Desserts Of House Of Pies
If you're looking to satisfy your sweet tooth, then you should pack up your things and head out to House of Pies. This Houston favorite serves fantastic desserts diner-style and is open for 24 hours.
House of Pies is widely known for its massive menu of delicious desserts, including family-crafted specialty pies, an American-favorite cheesecake, cream pies, traditional cakes, signature ice creams, and more. This place is truly a heaven for dessert lovers. 
According to locals, if you're just looking for a single but perfect dessert, you may try the Bayou Goo. It's a classic pie with everything you want in a pie such as chocolate chunks and shavings, pecan crust, cream cheese, whipped cream, and flavorful vanilla custard.
Final Words
One of the best ways to learn about other cultures is by trying their food. With its vast and diverse culture and tradition, it's not surprising that Houston houses some of the world's famous dishes such as Greek, Asian, Mexican, and of course, American.
That's why if you're looking to travel the world using food without paying for expensive plane tickets, you may visit and have a trip to the festive food stops at Houston. However, it'd be best to plan your visit as some restaurants are always jam-packed with tons of people.