This post brought to you by DoughMain.com. All opinions are 100% mine.
I'm terrible about keeping my children accountable for doing their chores. I don't do the allowance thing. So I realize I'm not doing the best when it comes to teaching them how to take care of themselves and their money. About a year ago I did open a banking account for my son. Well actually it is under my name but he has a card and a check book. My thought was teaching him how to balance a check book and start to become more financially responsible. He is 14 and soon will be making his own money and he needs to know how to manage it.
I was recently introduced to doughmain.com and honestly I have never seen a site with such a unique idea. I really am intrigued and excited to see if I can get my kids to participate. My favorite activity is the chore tracker.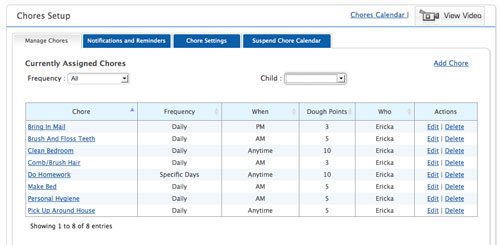 The children can log onto their account and see the chores I have set up for them. They can check when they have done the chore. As a parent I have set it so I can review for completed chores before the chore is logged. They then earn Dough points. Dough points can then be turned in for privileges or real currency. You can set how many dough points can be earned for each chore. You can select from a list of chores or add your own.
I also love the idea of the financial responsibility games. I think games are a brilliant way to engage your child and teach them when they are not even aware they are learning. There are three core games at DoughMain.
TheFunVault.com : a Flash game portal teaching basic money lessons to children ages 5 and up
SandDollarCity.com : a multiplayer virtual world where children ages 8 to 12 manage a family candy shop
IRuleMoney.com : a site for ages 13 to 17, featuring 30-second videos of teens talking about all things financial, from jobs, credit cards, car loans, to credit score
DoughMain's purpose is to supply you with family organizer tools that you can use to keep your family organized and track their progress. With three children I admit organization is not my strong suit. I do manage to get my children where they need to go and if anyone suffers it is usually good old mom. I took a peak at the calendar and adding in a birthday party my daughter was invited to this weekend. You can request reminders via text message or email.
Right now you can signup at http://www.doughmain.com using "dough" as the reference code for a chance to win a $500 Visa gift card. I encourage you to give it a look and sign up it is FREE. This is a great tool for you and your family.