Whether you have children or have nieces, nephews, or grandchildren, it should come as no surprise that kids are inherently creative and many adore the opportunity to create paintings, drawings, and other forms of artwork. At the same time, there is an unparalleled feeling of happiness that can be brought to you as an adult, when a child decides to present you with a special piece that they have made.
Having a drawing or painting hung on the refrigerator with a magnet can be a moment of pride for a child, as it is exciting for a little artist to feel that his or her work has been truly appreciated. That being the case, take the opportunity to treat the next masterpiece you receive with some genuine importance by adding a custom frame so that it can be displayed in your home or shared with others as a beautiful and personal gift.
Art produced by children has been underrated, over the years. When you take the same steps to properly frame a child's work as would be taken for artwork that was purchased from a store or created by a professional artist, this becomes much more evident. Not only does custom framing give the finishing touches to the piece to enhance its beauty, but it also gives a clear message to your child that you are proud of his or her creative energies. As a gift for aunts, uncles, parents, and grandparents, a framed piece of artwork is priceless.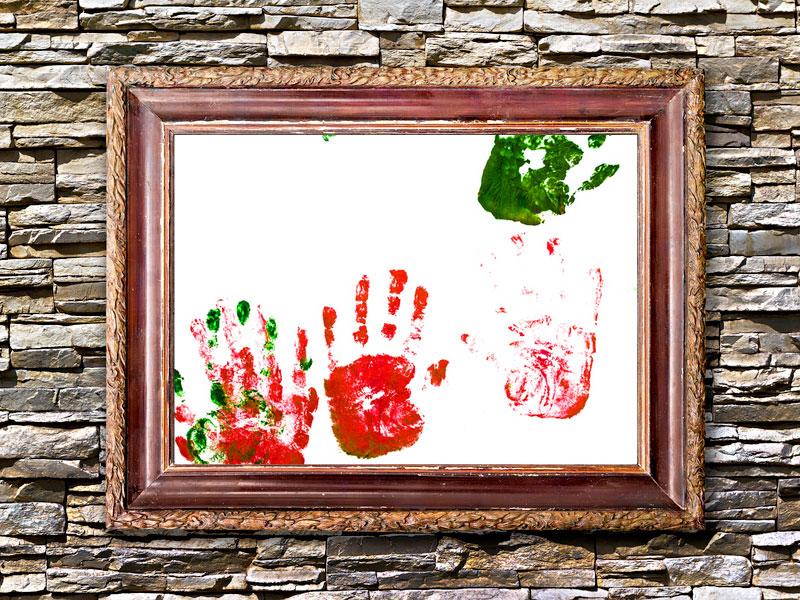 The key is to have some fun as you come up with the ideas for framing a child's art. It can be an opportunity be silly and free, or to declare that the piece should be taken just as seriously as the work of a professional. It can also provide a great project that you and the child can do together. Children love being involved in the process of framing their own work. Let them choose their own mats and frames. This will help the final product to be even more special for them.
Consider the following examples of how a child's work can be framed and displayed:
Select a simple white mat and black frame to ensure that all of the colors that your child has selected will pop. This can be a terrific piece to hang in the child's own bedroom or in a playroom or craft area.
Colorful mat boards can help to enhance the look of artwork that features jagged edges instead of smooth curves.
A sophisticated wood or metal frame and subtle mat can reduce the playfulness of a piece and give it credibility and substance as a piece deserving of being displayed in an elegant entryway or living room.
As an added tip, consider choosing a neutral frame so that you can change the mats and artwork over the years. This allows you to keep framing the latest masterpieces without having to buy a new frame each time. The neutral style will ensure that it will always match without looking jarring or busy.
Laura Jajko is VP of Marketing at AmericanFrame.com, the nation's leading online source for custom frames, mat board, archival digital printing services and picture framing supplies. For inspiring picture framing and design ideas, visit her framing blog, A Good Frame of Mind; and join her on Twitter @laurajajko and Google+.