As your small business grows, you will likely have to hire people to join your team. It becomes more and more difficult to juggle every aspect of running a business, so employees are a great way to allow your company to continue to develop.
However, when you have more people on your team, you have to worry about managing them and ensuring that they work well together. Here are some tips to help you out.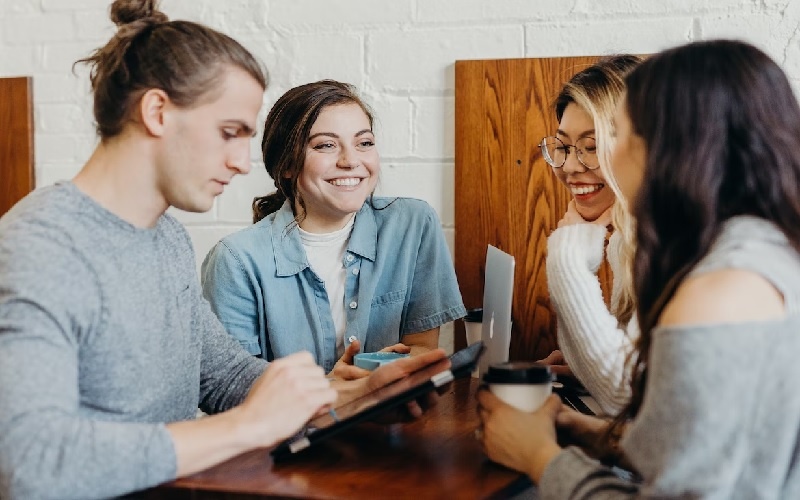 Hire With Purpose
Your team-building strategy should start from the hiring process. Rather than simply hiring someone to help without thinking about what you expect from them, you should plan every hire carefully. Work out what you need from your new employee.
Do you want them to fill a specific role in your company? In this case, you will need to find someone who has the appropriate qualifications and experience so that you know that they will be able to fulfill their job requirements. Even if you need to hire someone for a supportive role, you should still ensure that you know your expectations of them before you create a job description.
Once you have a good understanding of what you need from your candidates, then write an accurate job description underlining your expectations. This makes it easier for candidates to find your job, and also makes it much simpler for you to accept or decline applications.
You should also take time during the interview process to get to know your candidates and make sure that they're a good fit for your team. While qualifications, skills, and experience are important, you should consider how well they can work with other people. You can always train employees, but it's far more difficult to fix interpersonal issues.
Team-Building Exercises
Building a team isn't as simple as throwing a group of people together and expecting them to work well. People need time to get used to one another and, even if they get on well as people, they might not all think in the same way which can lead to confusion.
Believe it or not, the ideal team shouldn't be made up of people who think very similarly. Differences in teams lead to innovation and creativity, as people can work through different problems in different ways. You want people with strengths and weaknesses that complement each other, especially if they are going to be working closely on the same project.
You can teach people how to work well together by introducing team-building exercises. Different exercises introduce problems and puzzles for your employees to work through and that require them to work as a team. This teaches communication skills and helps people to figure out their strengths and weaknesses.
Ideally, the team-building exercises should also be fun. This means that your employees will also get to know each other better and, hopefully, come to enjoy each other's company. People don't need to be best friends to work well, but they do need to be able to get along.
Improving Employee Morale
Another benefit to your employees becoming friends while working together is that it boosts morale. Maintaining high morale is an important part of good employee management, but it isn't always easy to achieve.
One trick is to always remember that your employees are people, not simply cogs in a machine. People have hopes and dreams, families to worry about, and different preferences. While they might be focused while in the office, most employees have a life outside of work that can impact their work.
You should bear this in mind and, rather than using family concerns against your employees, aim to help them where possible. Every company benefits from loyal employees, but it's often up to the employer to display loyalty first. It is more beneficial to retain employees and be flexible where possible than to risk losing employees needlessly.
Keep in touch with your employees and be willing to listen if they have concerns or suggestions. Even if you don't implement their feedback, it's always useful to hear about the worries of your employees. Also, you can end up with some great ideas by listening to what they have to say. Remember, you hired these people for a reason, so they must be competent.
Happy employees are productive employees and high morale adds to a healthy and positive work environment. If your employees feel appreciated, then they will be more highly motivated and less likely to leave for greener pastures. Not only this, but new hires can often spot a toxic work environment from a mile away, meaning that they will avoid somewhere that has clearly unhappy employees.
Training Employees
Not every company is in a position to hire top talent from the get-go. While it would be good to be able to find someone who has all the qualifications and experience that you could hope for, sometimes it isn't realistic.
However, you can still build a skilled team that works well together by hiring less experienced candidates with plenty of potential and room to grow. As mentioned earlier, the most important thing to look for is someone who can fit in well with your existing team and who has a good work ethic.
If you hire someone with the potential to grow and the ambition to do so, then you can offer them training opportunities. Some industries require staff to keep up with their training. For example, the healthcare industry generally requires people to get retrained to make sure that they're up-to-date with the most modern techniques and tools.
Even if you aren't in one of those industries, it's still beneficial to encourage employees to continue their training. This way, you can train staff in specific areas that would benefit your company and that would help them to progress in their careers.
There are a few ways to encourage employees to train and get qualifications in certain areas. You can subsidize training, perhaps by entering into a partnership with an education provider. Or you can hire trainers for specific skills and qualifications and allow people to take time to take part in the training.
In any case, it's beneficial for everyone involved for your employees to continually improve their skills. It gives you opportunities to promote existing employees rather than hiring someone you don't know well, and it gives your staff opportunities to advance without having to leave the company, so you retain skilled employees.
Introduce a Uniform
One way to encourage employees to work together as a team is to introduce uniforms for work. This provides a sense of unity among the team, as well as encourages professionalism. The uniform depends largely on the kind of work your employees do.
For example, if your employees work in an office, then business attire might be appropriate. However, if your staff works in manufacturing, then you should consider a uniform that is comfortable and safe to wear while being easy to clean.
Custom embroidered clothing, such as those created by Mato & Hash, is a great option if you want to passively advertise your brand while providing a uniform for your employees. It's common to find these kinds of uniforms in stores, as it allows customers to easily spot employees so they know where to go for help.
The important thing to remember is that a work uniform should be appropriate for the job and should put a good face on your company. After all, your team represents your company.