I've had my grill for over 5 years. I have no idea how long a grill is suppose to last but I was seriously thinking of getting a new one or at least purchasing new grill plates and pieces so I could use it again. I always scrub my grill before and after each use with a grill brush but after a lot of use you just end up with caked on, cooked on, pieces of food and grease. I knew there was no way I could bring the grill plate in and try to clean it in my kitchen. I would have grease everywhere, but I knew I needed to find out the best way to clean your grill!
So when I was introduced to the "25 Ways to Use Palmolive" and was asked to try one of the 25 ways I decided that how to clean your grill was the best choice. The instructions were pretty simple. First, rinse grill rack then place in a sealable trash bag. Add a half-cup of Palmolive to a gallon of water then pour the soapy mixture over the rack inside the bag. Seal it and let it sit overnight. For my purposes I decided to use a plastic container instead of trash bag. I also did all the rinsing and soaking outside. You would not BELIEVE how much grease came off turning my water completely black!
Before I took a peak at my soaking grill parts I used the Palmolive and a sponge to clean the outside of my grill as well. I figured if it could get the grease off of those grill plates it should easily be able to clean up some dirt and grease on the outside.
How to Clean Your Grill

Once the grill was done soaking I did grab a sponge and had to scrub off some of the grease but overall I was very pleased just look at how much better my grill looks! Now I can grill out again! Ok I can once I get some gas!. This is just one of the useful ways you can use Palmolive. By visiting 25 Ways to Use Palmolive you can find more useful and even creative and fun ways to use it. Just check it out below
25 Ways to Use Palmolive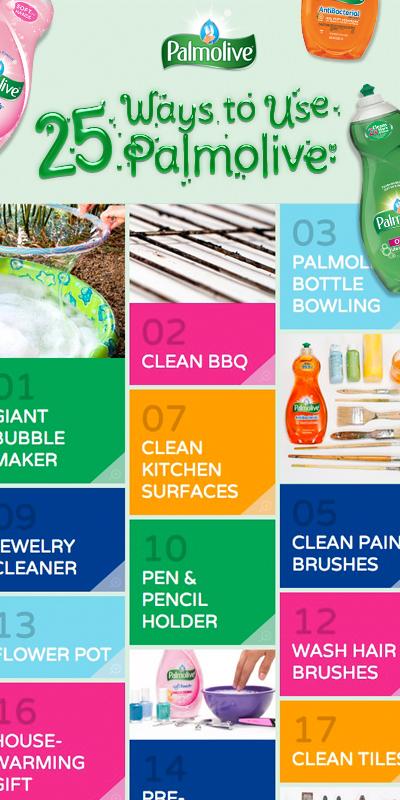 This post is sponsored by Lunchbox. All opinions are my own.