This post brought to you by American Family Insurance. All opinions are 100% mine.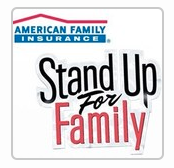 I love comedy, who doesn't? I've only experienced one stand up comedy act in my life and it had me in stitches. During one of our work outings we went to a comedy club downtown and had our annual meeting. The club was open just for us. What I found amazing was the comedian sat and watched the presentation and in a matter of an hour stood up and performed for us. His entire act was created in that one hour because the act centered around the people in the room, those giving the presentation and the owners of the company. I could not believe someone could come up with such side splitting material so fast.
Tonight I just watched a video from Stand Up For Family on behalf of AmFam. If you visit the site you will see a few short videos by several comedians, Bill Bellamy, Rodney Perry, Mark Viers, Donnell Rawlings, and Tony Roberts. The videos are family friendly, I would say for the older children, and there are some funny videos.
However there were two videos in particular that had me laughing and literally slapping my desk. I'm sure the reason it resonated with me is the early signs of my oldest son quickly becoming the dreaded "teenager". If you have a teenager I encourage you to watch these two videos. When you visit click on the tab for the comedian Mark Viera. Under this comedian are two videos titled Update Part 1 and Update Part 2.
I don't want to give too much away but Mark is telling a story about his 15 year old son and one of many struggles I'm sure as a parent of a teenager you will really find quite hilarious. In addition to watching it myself I had to get my boys to do the same. I wanted to see what they thought of this man talking about his teenage son. Both of them couldn't stop laughing!
Excerpt from American Family Insurance
American Family Insurance's Stand Up For Family Comedy Special, hosted by Bill Bellamy, features some of today's hottest comedians providing entertainment for the entire family. Inspired by experiences from their own families, the performers offer their own perspectives on daily life with loved ones, finding the humor that we all can relate to. Stand Up For Family is a non-stop laugh-aloud showcase perfect for families of all ages to enjoy, and it is designed to align with American Family Insurance's commitment to supporting and adding value to consumers' lives.