There is the work me and the home me. What is the difference between these two? Let me explain. At work I am organized. Everything has it's place on my desk, my emails are organized by categories and folders, and my virtual files are easy to find with a naming structure and file locations. My co-workers are often commenting on how organized I am. At home? Not so much. My husband often laughs when I tell him what my co-workers say about me. At home I'm often found walking through the house, "Where are my keys?", "Has anyone seen my phone?", "I can't remember where I left my glasses."
If only I had a little fairy finder who could sprinkle some magic pixie dust and my items would appear. Someone heard my prayers and delivered to me my own Pixie (Dust) to do just that.
Pixie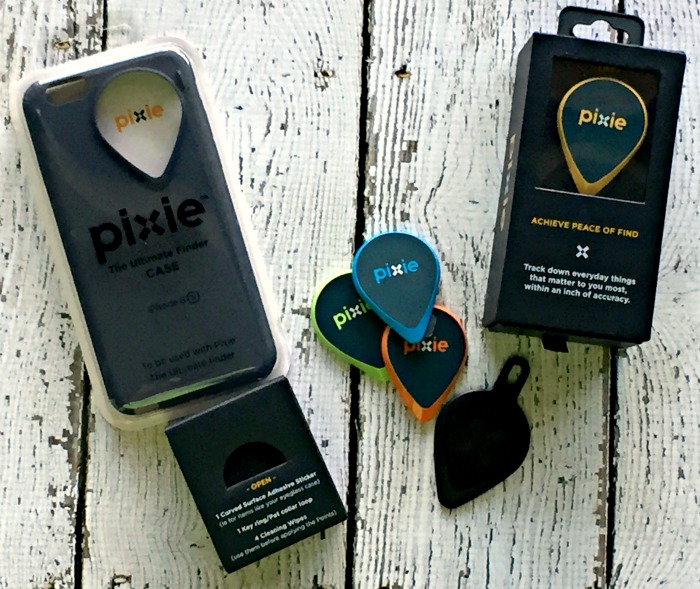 With this nifty gadget and my phone I can now find my lost stuff! Pixie uses augmented reality and my iPhone to actually show the location of my missing items. It is pretty easy to use with a few errors at first we were able to get it working just fine. The kit comes with 4 Pixie Points (with one of them required to be attached to your phone), two key chain holders/ pet collar loop (if you would like to affix one/two of your Pixie Points to your keys or a pet collar), 1 adhesive sticker to stick your Pixie Point to any item of your choice (such as an eyeglass case), 4 cleaning wipes, and a start up guide.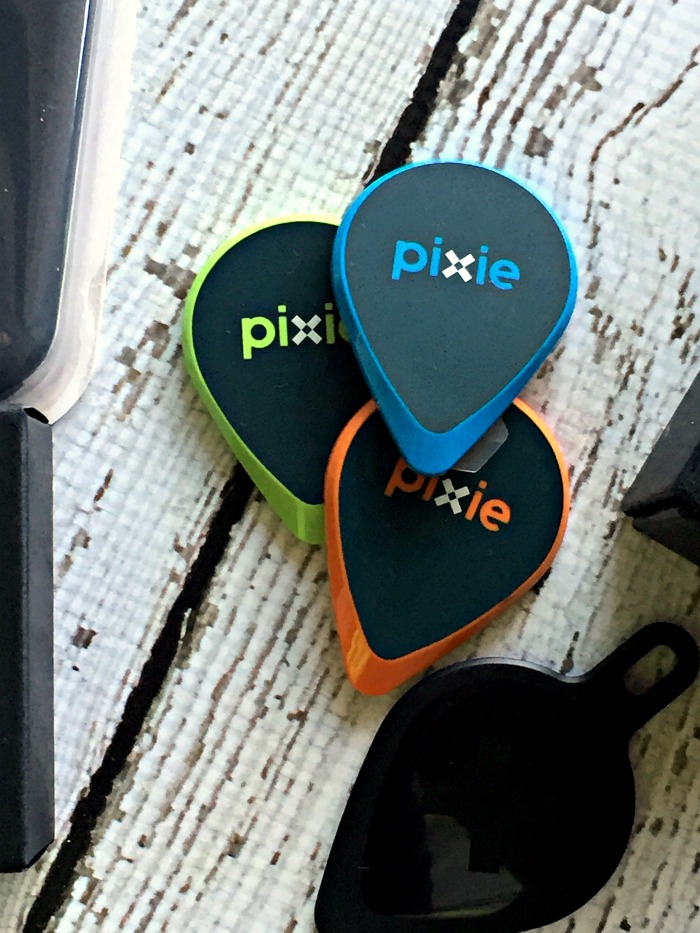 The first step is to download the Pixie app at getpixie.com/app. Once downloaded you follow the in app instructions and pair your first Pixie Point to your phone. It is very simple, to pair. I didn't have to change any settings just set my Pixie Point next to my phone and followed the instructions.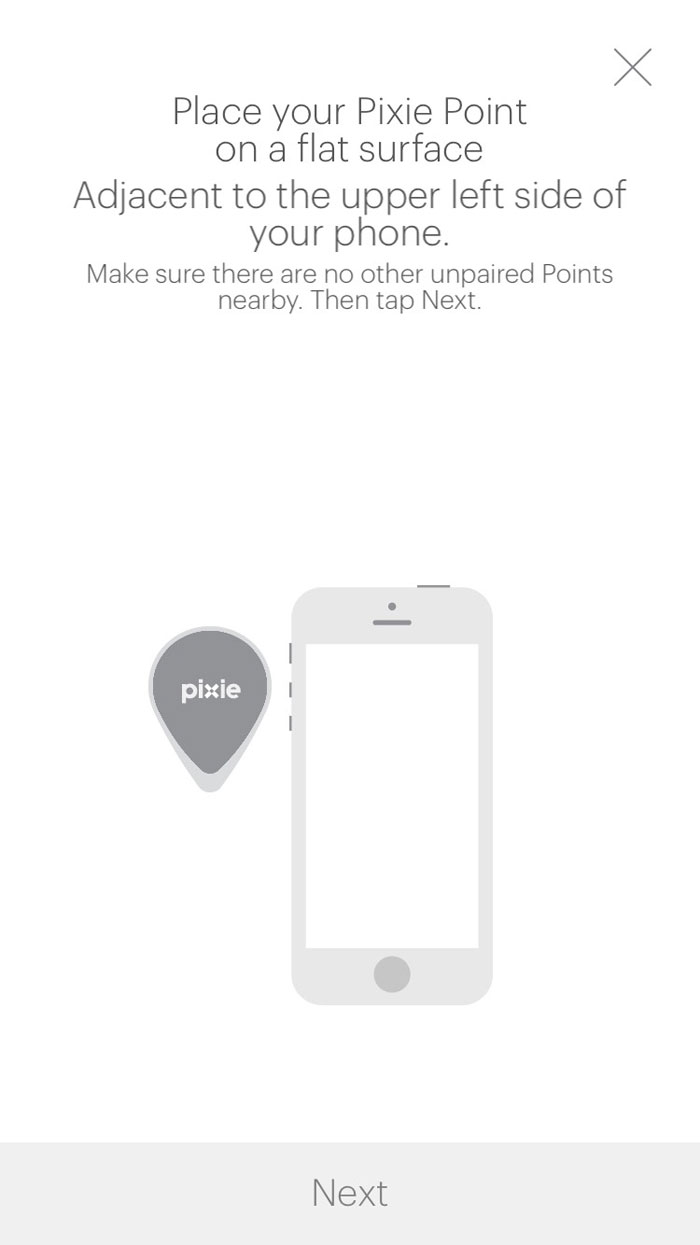 Next you will pair each Pixie Point and give it a name. These Pixie Points will then be affixed to whatever you want to be able to find. I chose my keys, purse, and glasses. Once everything was paired and set up it was time to test out the app. I had my daughter put my keys in her bedroom. I fired up the app and began the process of finding my keys. I selected keys so my phone would know what I was looking for. The first step is to take a panorama photo through the app. This is where we had a little trouble. We tried a few times and wasn't sure what the next step was as it seemed to take a while. It turned out for us if the item was in another room you do have to scan back and forth for a while before Pixie can locate your item. You follow the directions on the screen and scan slowly. It will tell you when to change directions. Once the item is found you will see Pixie Dust on your screen.
Pixie Dust
Here you can see that Pixie has located my keys. I started walking forward and my screen displayed 16′. As I got closer to the item the feet lowered, as I got further away it would get higher. This is to help you narrow in on your item. Once it gets close enough a metal detector displays also moving from red to green as you close in on your item.
Overall we thought Pixie was a pretty unique and fun way to find lost items. You will need to have a good phone signal, we sometimes have a weak signal in the house and Pixie would tell me to get closer to connect. Often when this happened I just shut down the app and turned it back on. You will also need to be within range of the item to find it. Meaning you aren't going to find an item at a neighbors house when scanning in your own home. The only other small thing for me is that I would have liked to see the Pixie Points be a little smaller. While there is a Pixie case specifically to hold your Pixie Point that needs to be affixed to your phone it is not necessary. However with the Pixie Points being so large it does stand out on your phone. It would be nice if it was smaller, like the size of a penny and less obtrusive when affixed to your phone.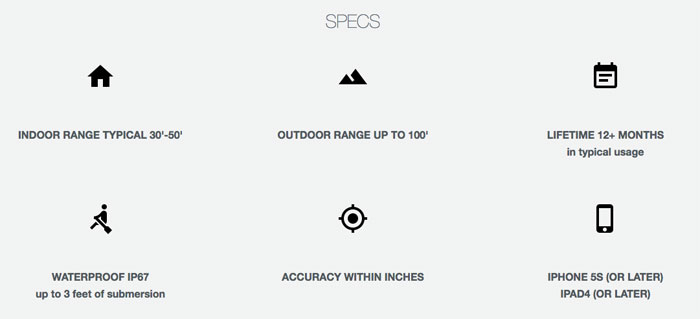 There are many item finding gadgets out there but none are as fun as Pixie!
Pixie Points can be purchased  on getpixie.com or Amazon (feel free to use an affiliate link if you have one). And, please include the code "Shibley" for your readers to save $5 off a purchase of $25 or more on getpixie.com