This post was created in partnership with Fellowes. All opinions are my own.
I felt like it was Christmas all over again when my new Fellowes 73Ci Shredder arrived. What a great way to start the New Year. Being a victim of identity theft I realize just how important it is to dispose of all of my personal information properly. One of my most important New Years resolutions is to protect myself from ever letting it happen again. So when I got the offer to review the Fellowes 73Ci Shredder I jumped at the chance.
Setting up the Fellowes Shredder was really easy. I put the four wheels on the bottom of the shredder, which allows you to move the shredder from room to room with ease, then I placed the shredder on top of the basket, put a plastic bag in the basket, plugged it in and I was ready to shred all those December madness bills and receipts.
One of the many features I found superior about this shredder is the 100% jam proof system that eliminates paper jams and powers through tough jobs. I am not a very patient person. I like to get things done and get onto the next objective of the day so I have to admit that I sometimes try and put to much into the shredder which normally causes a jam. So far I have not jammed this shredder, I love that it gets the job done.
My office is rather small and I try and keep it clutter free so another plus is the size of the Fellowes 73Ci Shredder, it is powerful enough to do the job yet it fits perfectly under my desk!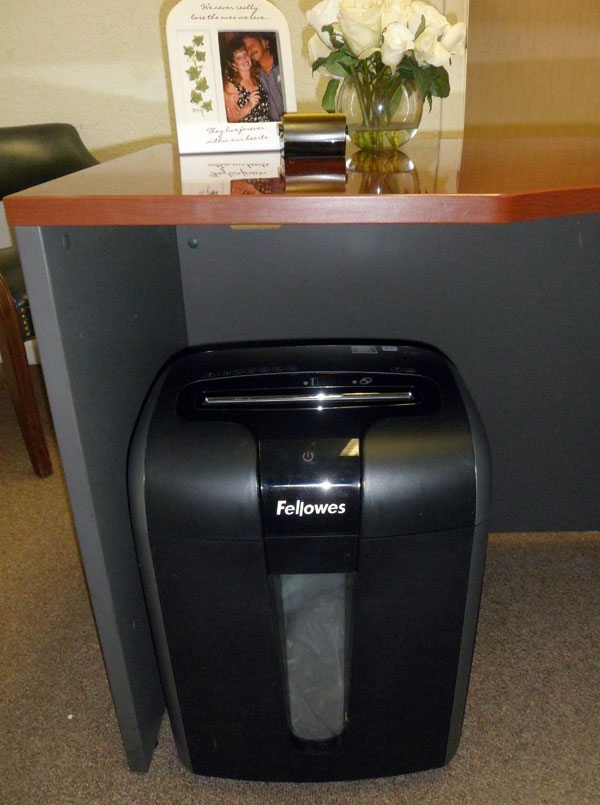 I highly recommend the Fellowes 73Ci Shredder for all your protection needs.
Here are some of the other great features I enjoy about the Fellowes 73Ci Shredder:
SafeSense® Technology which automatically stops shredding when hands touch the paper opening
A proprietary Energy Savings System that maximizes shredder energy savings 100% of the time – both in use and out of use
Capacitive touch screen controls
Heavy-duty Cross-Cut blades that destroy 12 sheets of paper into 397 particles per sheet, making it extremely difficult to reassemble
The 73Ci is available at office superstores and their online counterparts for a suggested retail price of $199.99.
If you are looking for some other great ways to project your family follow the hashtag #IDSafetySeason and @FellowesInc
How do you plan on protecting you and your family this year?