This post brought to you by White Cloud. All opinions are 100% mine.
Recycling and saving our resources is more important today that it ever has been. We all know that our Earth needs help, it needs a break. We can help by being responsible, conserving energy, and recycling all that we can. My kids are great about recycling, not so great about conserving energy (I'm always reminding them to turn off lights, TV's, and fans).
I can't remember when we decided to become more green living conscious as a family. I remember as a child visiting my father in Michigan and going around the neighborhood looking for cans. This is because in Michigan (at least back then) they had a 10 cent refund when you turned them in. My sister and I would collect what we could and take them to the nearest store and leave with a bag of candy (back when candy was 5 to 10 cents).
Today we recycle what we can by using the provided recycling bins our trash collector gives us. We donate old toys and clothes versus throwing them away so that someone else will get to re-use them. My kids know this is just the way it is. They know to throw the paper, plastic, and cans in the bins. They know to put old clothes, toys, or other items in the donation pile in the laundry room.
White Cloud is embracing Living Green with their GreenEarth Products: White Cloud GreenEarth products page
GreenEarth is the innovative, eco-friendly line of White Cloud products (bath tissue and paper towels), made from 100 percent recycled fibers. With GreenEarth, there is no compromise. GreenEarth products maintain the highest standards of quality while still remaining affordable.All GreenEarth® products maintain a Forest Stewardship Council certification.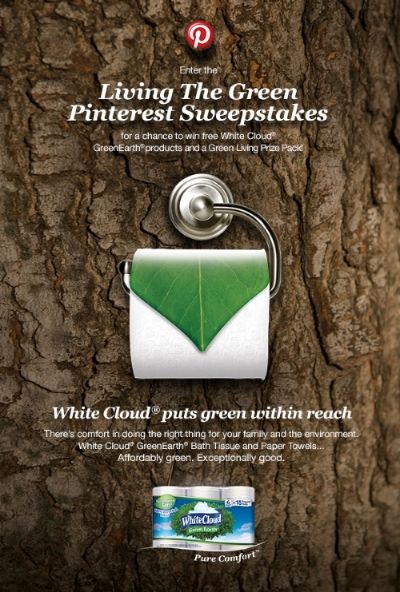 White Cloud is hosting a fun "Pin It To Win" it contest and wants to encourage Green Living.  Here is how you can enter to win:
Follow White Cloud on Pinterest: White Cloud Pinterest page
Create your own "Living the Green" Pinterest board
Repin at least one Pin from the White Cloud "Living the Green" board to your board and include the hashtag #LivingTheGreen in the pin's caption: White Cloud "Living the Green" Pinterest board
Visit

mywhitecloud.com/promotions

and complete the sweepstakes entry form

Sweepstakes Rules and Regulations
There is NO PURCHASE NECESSARY. Ends 4/30/13. Click here for Official Rules.
"Living the Green" doesn't have to mean breaking the bank or sacrificing quality. Recycling cost nothing, it is usually offered by your trash collection service. It cost nothing to turn off lights. Changing your bulbs to LED or High Efficency bulbs may be a little extra up front but in the long run they save you money.
Did you know White Cloud products are exclusively at Walmart? Find a Store Near You!
If you don't want to miss out on all the great products and information be sure to Like White Cloud on Facebook and Follow White Cloud on Twitter