This is a sponsored post written by me on behalf of Jostens for IZEA. All opinions are 100% mine.
It seems like just yesterday I was picking out my own class ring and I remember how excited I was. It is hard to believe that my oldest son is a Senior and will be graduating at the end of the school year and it was his turn to pick out the ring that will help him remember this important time of his life.

For over a century Jostens has handcrafted high quality, custom class rings. Their rings are built to last a lifetime and are stylish and unique. Every student deserves a Jostens ring. Jostens Ring Designer has a large variety of High School rings for women or men and best of all you can create your own ring.
After looking at the many beautiful designs Josten's has to offer we designed a ring perfect for my son. We decided to go with the Josten's Scholar design .When you design your ring first you pick the color of the stone. You can pick between your birthstone or other popular stones. Then you even pick the cut of the stone, along with what you what you want to have printed on the left and right side of the ring.
Jostons Ring Design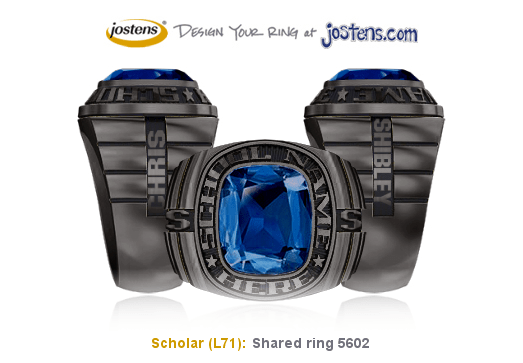 Here we choose a blue spinal stone with the facet premier cut. On the sides we placed his first and last name. You have a choice of metals ranging from white lustrium to 18K white or yellow gold. We choose white lustrium with shadowcast. White lustrium is the metal and the shadowcast is a finish that makes the ring appear black and faded. Last but not least you pick the year you graduate and size. Another important feature that was offered is you can have your full name engraved on the inside of the ring. I often see a picture of a lost class ring posted on many popular websites trying to find the owner. Having your name engraved increases your likely hood of finding your ring if lost. That is if you don't chose to have your name on the ring itself.
There are 142 different styles between men and women rings to choose from so it is pretty hard not to find a style that would be a perfect fit for you. We love the Jostens ShadowCast Rings. Class rings are a great way to remember a very special time of your life for many years to come. Check out the ShadowCast rings by Jostens.
Which ring is your favorite design?