Recently I saw an article where criminals were hacking into baby monitors. The thought sickens me, the idea of strangers watching or interacting with your children or pets is terrifying. All I could do was shake my head. How could people use something as innocent as a baby monitor to do criminal activity? I got to thinking that even though technology improves our lives and makes it easier in many ways, it also leaves us vulnerable to attacks on our security. As fast as technology advances, there are people out there using it negatively by hacking into the connected devices we use. The more devices, the more ways they can get in. Stop to think about how many devices you use every day from smartphones to computers to tablets. Even smart Tvs, home security,  and gaming consoles open the door to hacking. Any device that connects to the internet is susceptible. Last time a technician was out at our house he told me we had 23 devices connected to the internet. This is where CUJO comes in.
What is CUJO?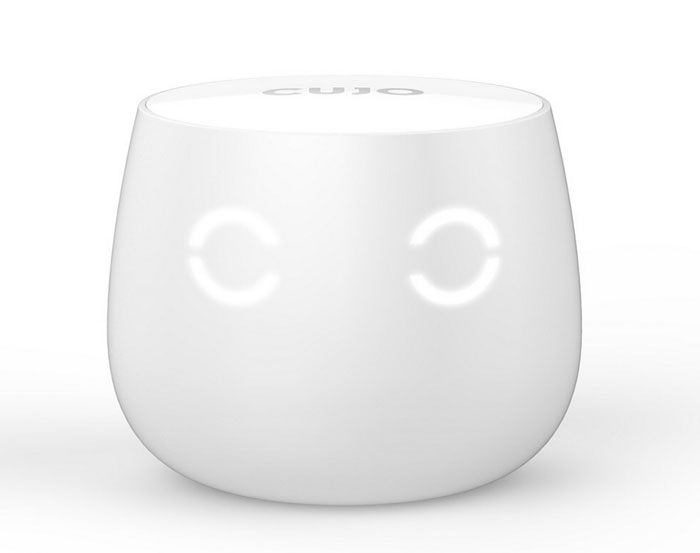 Cujo is a device that has been designed to protect you and your home network against attacks including hacks, viruses, malware, and virtual intrusions. Easy to use, simply plug CUJO into your router and launch the app. Your connected life is protected from invasions of privacy, property and identity theft. What's more – CUJO protects your sense of security. It's like having a virtual attack dog trained to detect intruders. Using machine learning, CUJO determines how the devices in your home network and behave. It adapts and continuously learns to best protect your devices. When something is wrong, it automatically blocks the threat. After a threat is blocked, you'll receive additional details through the app. CUJO is only 4″ in diameter and 2″ inches tall, so it easily fits pretty much anywhere.
Learn More About CUJO Security
CJUO is almost here their Indiegogo campaign will be launching on
September 15th
! A special campaign offers pre-sale soon and those email subscribers will get founder discounts, rewards, and more. They're even hosting a giveaway with an amazing prize – an Apple Watch Sport! By entering the sweepstakes, you'll be eligible for early bird discounts! Head over to
Get CUJO
for more information on how to protect yourself!
Win an Apple Watch Sport
Enter sweepstakes here