Many times the best solution is prevention. If you go to the dentist regularly you have a better chance of clean healthy teeth. Having yearly doctor exams can detect  issues before they become problematic. How many times as a parent have you thought, I could have helped my child if only I knew there was a problem. Many times our children get into situations simply because they didn't know better. Maybe your child is targeted at school by a bully and you had no idea. Don't you wish there was some way you had a clue that something was wrong?
One of the hard parts of being a parent, and I do mean one as there are too many to count,  is walking that fine line between giving children freedom and being aware of what is going on in their lives. I have two teenage boys and getting them to "talk" about what is going on is worse than pulling teeth. If I just mention the word girlfriend to my oldest son he walks away from me. Teenagers have no problem communicating with each other, but the way of communicating has changed over the years. Now we communicate with text, email, and social media. This is where WebSafety comes in.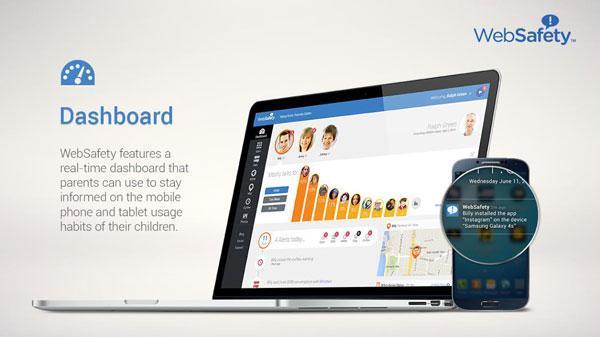 What is the WebSafety App?
WebSafety Inc. is an app that gives parents real-time alerts to help them protect their children from online dangers such as cyberbullies, sexting and Internet predators. A world first, the WebSafety app – which uses patented technology – provides parents with analytical tools to watch for alarming patterns or behaviors, while children and teens are using their smartphones.
Why the WebSafety App?
73% of teens have shared personal information or potentially inappropriate content**

43% of kids admitted to being been bullied online*.

43% of children said that they had exchanged messages with strangers*.

71% admit they hide online activity from their parents*.

Most parents (83%)* are aware of the risks to their child but they haven't had a way to properly protect them.
Many summers ago my boys discovered both text messaging and Facebook. They came home from summer camp talking, texting, and emailing GIRLS! Not only did I immediately call my wireless service provider and switch to unlimited text I also realized I needed to find away to make sure my boys were being gentlemen and appropriate in their communications. I also wanted to make sure they were safe and weren't receiving communications that could harm them as well.
WebSafety wasn't around then so I had to rely on sneaking peeks at their communication and if I found anything that gave me reason to be concerned I had to find away to approach it without them thinking I had read their text. WebSafety has some really cool features!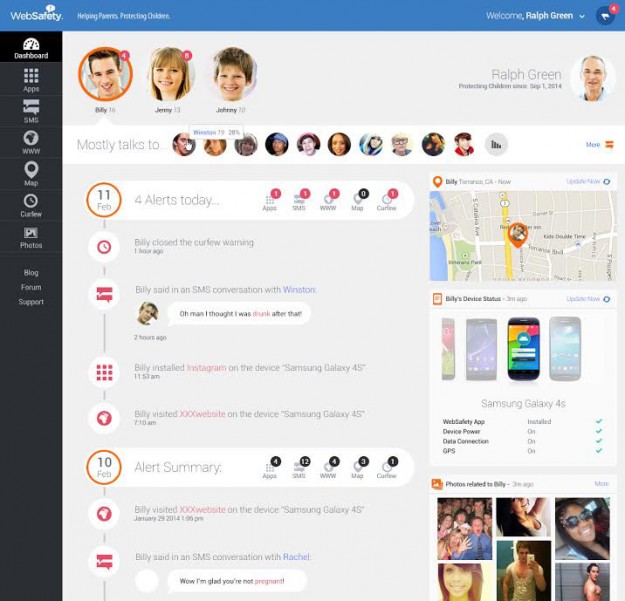 WebSafety App Features
Dashboard: A real-time dashboard displays daily activities.
Monitors apps: Detailed descriptions of apps downloaded by the child onto their phone or tablet are accompanied by WebSafety's own notes and suggestions for parents.
Monitors text messages: Options include the ability to view all text messages sent and received, or limited to alerting parents only of words of concern or specific people.
Monitors websites: URLs for porn and other inappropriate websites are flagged for parents' notice.
Monitors social networks: Parents can view all photos uploaded to Social Media accounts in one convenient location, and receive notifications about words of concern used on social media networks.
Curfew: Parents can set time restrictions, with automatic notifications of out-of-hours use.
Notifications: Reports can be customized to provide parents with real-time hourly, daily or weekly activity summaries.
Check out the real time alerts, making child monitoring super easy! As easy as using your phone.
In this photo you can see the parent was alerted that the child had left the house, that he installed a new app on his phone, and the keyword "drunk" was flagged. Pricing plans for the WebSafety service currently ranges from 3.99 for a single child to 14.99 for a large family. I really love the idea of this app, with two teenage boys and a daughter who learns from those boys making sure they are walking the right path is my job. Don't get me wrong your children need to make their own choices and learn from their mistakes. However as parents it is sometimes necessary to guide them so those mistakes don't become big mistakes! I encourage you to check out WebSafety.
WebeSafety Discount
The first 25,000 subscribers will get 50% off a 6-month or year long subscription! Subscribe here: WebSafety App  7ou can download on Android now Google Play