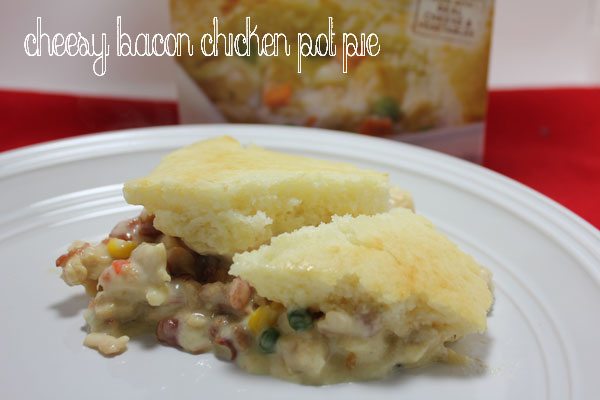 Ingredients:

Velveeta Cheesy Casserole: Chicken Pot Pie
Bacon or Bacon Pieces
Corn
Optional: peas or additional vegetables

Directions:

Follow directions on the Velveeta Cheesy Casserole Chicken Pot Pie box however add bacon, corn, and any additional vegetables.
With a full time job and three kids cooking from scratch and big homemade meals are not something I can fit into my already busy schedule. In fact I don't like to spend a lot of time in the kitchen, I prefer easy to make meals that taste like I spent time making them. Crock pot meals and easy to make meals like the Velveeta Cheesy Casseroles are right up my alley. Throw ingredients together, cooks in no time, and taste like I spent the time to make a home cooked meal.
This weekend when Honey and I went to the store I let her pick between the three Velveeta Cheesy Casserole flavors: Chicken Pot Pie, Shepard's Pie, and Chili Cornbread. I was not surprised at all when she chose Velveeta Cheesy Casserole Chicken Pot Pie, she loves pot pies. We discussed adding additional ingredients and I came up with bacon and Honey came up with corn. I would have LOVED have added more peas but they are not my husband's favorite vegetable so I limited the peas to those that are included in the box.
The meal was simple to make, from cooking the chicken, to whipping up the biscuit mix, and from putting it all together in a casserole dish and popping it in the oven. I especially loved the biscuit layer on top of the Cheesy Bacon Chicken Pot Pie. My daughter, on the other hand, enjoyed the insides and the corn. I really liked the flavor the bacon gave to the pot pie. The casserole itself resembled a traditional pot pie with gooey hearty insides surrounded by a soft crust (the biscuit).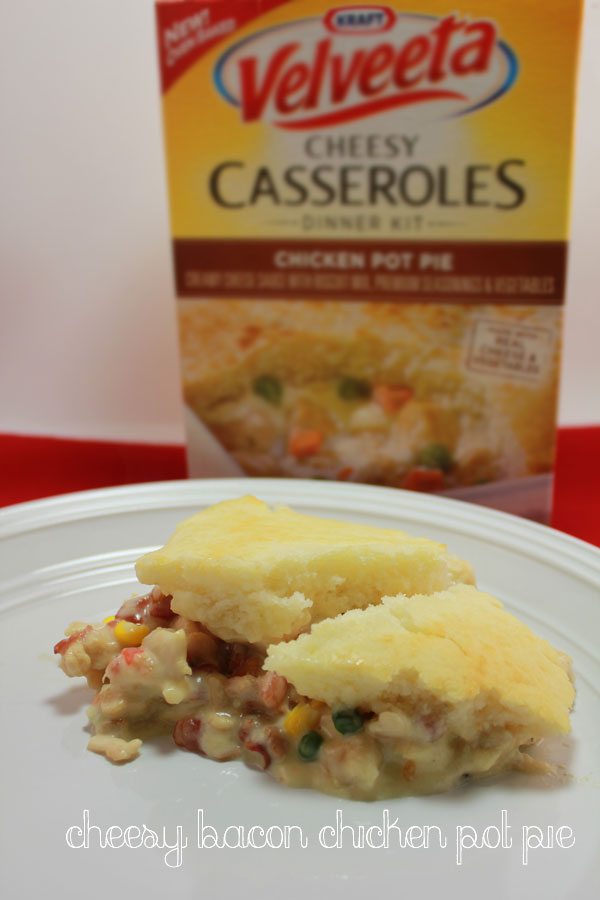 The best part of this meal was the preparation and cooking time. I can whip it up as soon as I get home and pop it in the oven before the night of sports, homework, and baths. Even better because of how easy it is to prepare this is something Honey can help me with. She loves to help me anytime I'm in the kitchen. She grabs her stole and gets all the ingredients together. She loves to pour, stir, and put all the ingredients together. Maybe someday she will do more home cooking then her mom does!
New Velveeta Cheesy Casseroles. Liquid Gold is now available in three oven-baked varieties: Chicken Pot Pie, Shepherd's Pie and Chili Cornbread. Like us on Facebook, at Facebook.com/Velveeta
---
Disclaimer: Compensation was provided by Velveeta via Glam Media. The opinions expressed herein are those of the author and are not indicative of the opinions or positions of Velveeta". You may read more of my disclosure here.
---