This post brought to you by Cooper Tire. All opinions are 100% mine.
I left work a few weeks ago and noticed I had a screw in my front passenger tire.  I drove straight home all the time worrying about my tire knowing how important good tires is to the safety of your car. I was lucky and only had to have a patch put on but it got me thinking about how often should you replace your tires? So I went on-line and found a couple facts about worn tires. Did you know about 400 fatalies per year are caused by tire failure and when a tire becomes worn it loses traction and braking ablitiy. All to scary to me!
While looking up these facts I came across a great "Spring Savings Event". From March 1- April 15 if you purchase a new set of four qualifying Cooper tires on popular passenger and light truck tires lines you can receive up to an $80 Visa®prepaid card.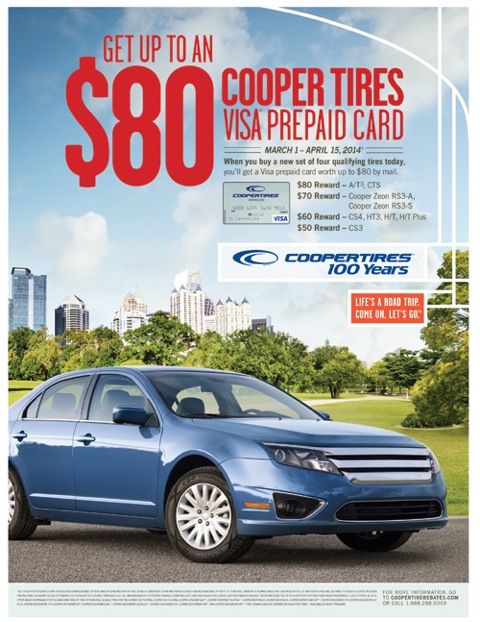 How sweet is that, new tires and a free date night I say. Not only can you put a little money in your pocket they are also  celebrating life's everyday road trips offering "Roll with Cooper" a $1000 prize pack sweepstakes. Entering is easy all you have to do is visit, Cooper Tire on Facebook and post your favorite moments of daily travels in the car. I am posting how I love to drive down A1A next to the ocean with the top down, jamming to my favorite music enjoying the smell of the ocean and beauty of the day. But wait there is a couple other ways to enter, you can  tag #RollWithCooper on Twitter or Cooper's newly-launched Instagram page and you will be entered into the Grand Prize drawing for a gas card and Cooper merchandise.
So I recommend you check out the tread on your tires and then check out these great deals that Cooper Tire has to make sure you and your family is safe including Cooper Tire Rebates
Happy spring, safe motoring and good luck on winning the grand prize.
What would you do if you won the prize pack?