I remember shortly after we purchased our home my family and I went on vacation. Now we have been on plenty of vacations before but this one we were leaving our new home, in a new neighborhood, vacant. It wasn't the neighborhood as much as leaving this large investment into our future with nothing to protect it. Don't get me wrong we locked all the doors and windows but it started me thinking that maybe we should invest in security.
We are still doing some research on what would be the best security for our home. We actually have a security system installed (it came with the house) we would just have to learn how to use it and pay to have it monitored. In the meantime I was asked to review a new app called Cammy. In order to use this app you have to have a camera or you can use your iPhone. We were sent a camera to set up in the house to start using the app.
D-Link DCS-931L Wireless Camera

Armed with a new wireless camera and the Cammy app I sat down to get everything set up and working. Getting the camera set-up took moderate effort. It worked fine when it was connected via an Ethernet cord but it was dropping when I was trying WiFi. Eventually it just started working which was great because I definitely wanted to move my camera away from my modem. The camera is connected via WiFi and therefore is connected to my wireless network in the house.
The next step was to install the Cammy app on my phone.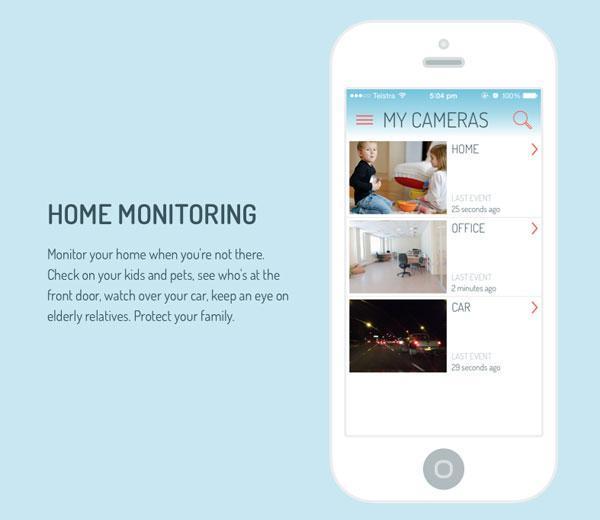 Installing the app was just a click of a button and download. Once it was installed I simply had to login to my camera to connect it to my Cammy account and everything was ready to go. The Cammy app records what is going on in its view based on motion. This means if you are at work all day and there is no motion in your home nothing will record. When it does detect movement it starts recording in quick photos that when watched looks like video. This saves on bandwidth. What is great about the recording is that you don't have to be sitting at your computer or using your phone to see your house (though you can). Everything is recording and available for playback. So should something happen (and we hope that it doesn't) you can login and see what your camera has captured.
Because the photos are stored to the Cloud there is no way for an intruder to delete your recordings. Even if someone unplugged your camera, up until it was unplugged the recordings would have been captured and sent to the cloud. Here is an example of what I can see logging into my computer. I can pull up any of these recordings and watch the activity in my family room.

You can hook up more than one camera to the Cammy App. Not only that but you can use your phone or your computer as a camera.

I hooked up my computer as a camera and sure enough I could see myself being recorded as I typed up this review.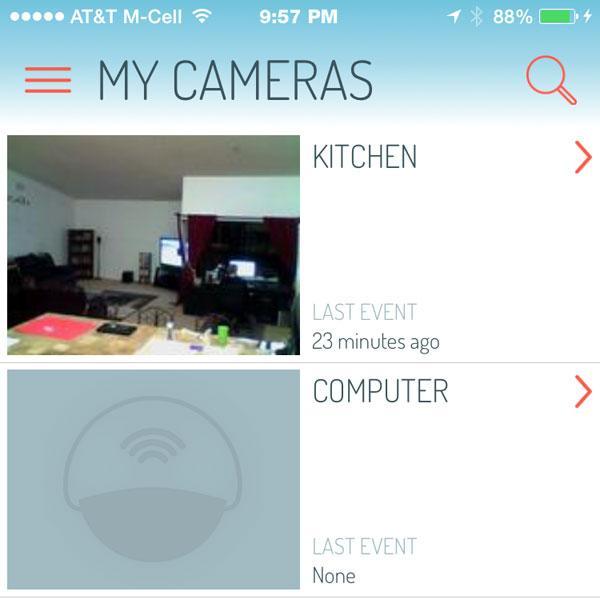 I love that you can add multiple cameras and I'm considering getting one for my living/dining room that points to the door. I would also like to upgrade my camera to the ones that you can actually remotely pan out and in and move the eye to give you a better view of the room. It would also be beneficial for us to have one in our back and front yard. As long as  you get a camera made for the outdoors you can hook it up to Cammy the same way.
Cammy App Features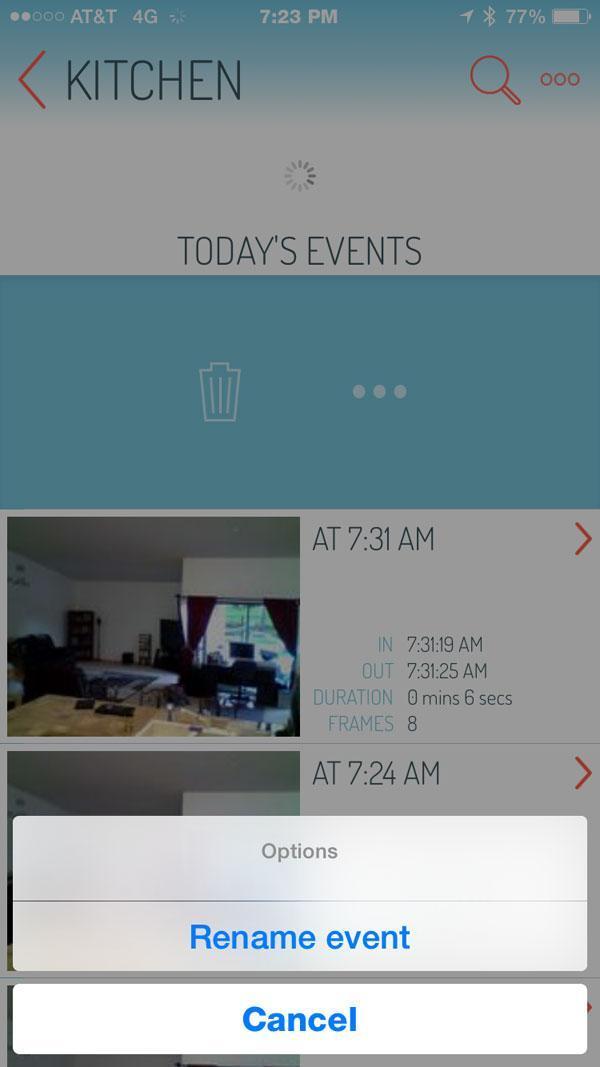 The search feature is pretty cool. Basically what you do is you can name your event. So as you are reviewing your recordings for the day and find something you feel you may want to come back to you can name it. Then at any time you can search for the event to find it easily.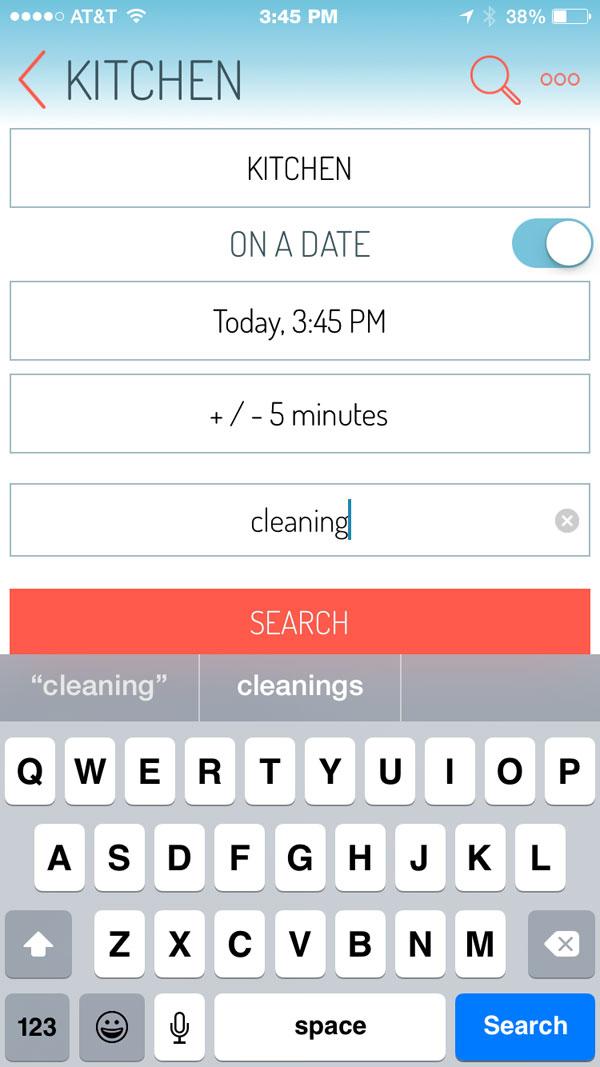 You can also, at any time see a live feed of your camera my swiping to the left on the camera you want to see live. From there you select live. I love that it will ask you for your camera login to see the image. Since it is live I love the extra security.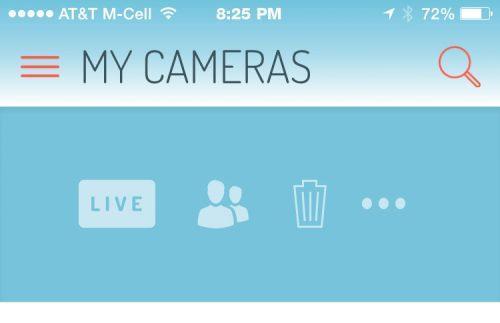 You can also share your camera with your friends and family by selecting the "people" icon and emailing them a link to your camera. Now that you have seen all that Cammy can do and how easy it is to use you are probably wondering how much does it cost? Is there a start up fee? What is the monthly fee? Would you be surprised to learn that it is FREE? I know I was. Currently there is no cost to download the app and use the service. You simply need a camera to get started. As mentioned above you can always use your phone or computer. Or cameras like the one I got cost as little as $40. It does appear like Cammy will soon be expanding into the Home Alarm business. A little birdie told me that the Home Alarm will have some cool features coming soon.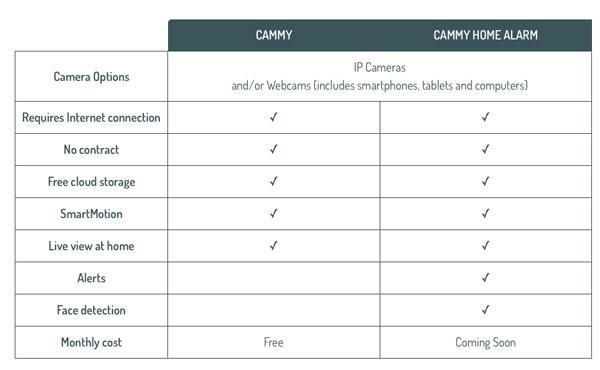 I thought I would not like the thought of a camera in my home. I was afraid my boys would think we got it to spy on them but really you forget its there. I actually love the fact that I can login and check in on my kiddos. There are several times when I will call them over and over with no answer (because their ringers on their phones are too low) and I get worried. Now I can log into Cammy quickly and see they are home and can get back to work without worrying.
Do you have a home security system? Or did you always think they were too expensive?