I can not say enough how wonderfully lucky to have the most loving family.  Some of you may have caught on that  yesterday was my birthday.  I was really not expecting much for my birthday. In fact I didn't really want my husband to purchase anything for me.  However my husband is not a person you can tell to NOT buy a present for a special occasion it is just not in his genetic makeup.
For the record my husband remembers every birthday, every anniversary, and even that anniversary that us women seem to find special "the day we met".  Not only does he remember all this but he listens, yes you heard me right ladies, my husband listens to me.
My day began Happy Birthday hugs from my boys who were awake when I left.  I arrived at work to  TONS of Facebook "Happy Birthday Wishes" as well as some emails from friends afar.  Shortly there after I received my birthday call from my mom, my nephew, and my sister.   Surprisingly I also received an e-card from my husband that had me in tears. It wasn't so much what he said but that he sent me an E-CARD. I really had no idea he knew how to do that in the first place. My husband is the sweetest man alive! I really figured at this point I was done for the day.
Oh but was I wrong.  My sister and mother sent me my birthday present via email.  You might be wondering what could some one send me via email.  Well my friends like me just brag a little about this present that I actually asked for in my post Hint To My Husband……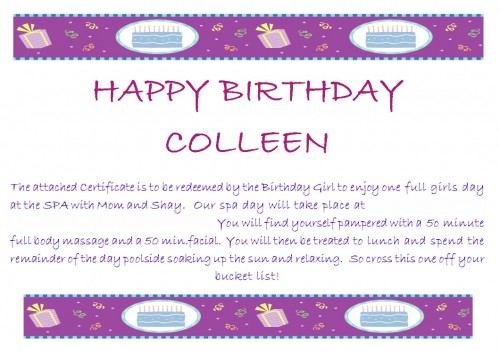 So now I'm just shocked and super excited! It pays to blog what you want!
I arrived home to more surprises. It was killing the boys that I was running late. When I walked in the door I was ushered to the living room for more holding back of the tears. I was presenting with my first gift from my little girl, all made by her, and yes that says Colleen. She never writes mom she is more proud that she can spell Colleen.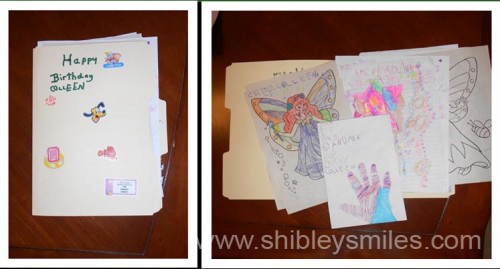 I received some body lotions and a beautiful shirt from my mother-in-law. As for my husband listening, a few months ago I mentioned that my camera was not working as well as it use to and I was thinking of getting a new one. So of course what did he get me but a CoolPix S4100 camers…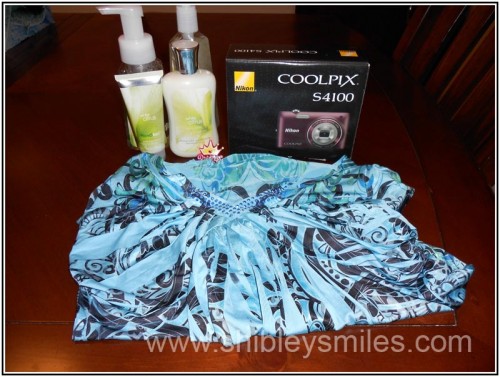 I haven't gotten to test out the camera too much. The pictures here were taken with it but I need to spend a little time to see if it works better then the one I have.
Over all my birthday was full of surprises and as I said before I have the BEST family in the world!
Update: I totally forgot to mention that on top of the above my house was very clean when I got home. My husband had vacuumed, dusted, mopped, and cleaned the kitchen.  I feel terrible that I also forgot to take a photo of the card my boys made for me, in which they had displayed in pictures that I was "The Best Mom in the World" and it showed two boys coming to give me a hug.  This truly has been one of the best birthday's I've had. Just the out pouring of love from my family makes it hard to keep a dry eye.