You normally will not find a lot of baby items here at Shibley Smiles as I myself am past that stage with my daughter turning 11 this month. However my husband and I just found out that my stepdaughter and her husband are pregnant with their first child together. Though I know that I'm not even close to being old enough to be a grandmother I'm excited about the new baby. Here due date is in June and my husband and I have already started figuring out how we can help the happy couple.
The list of needs for a new mother is rather large from high chairs and clothing, to rockers and playpens. It always amazes me how much equipment a small human could need. I don't know it though as we refused to go anywhere without my son's swing. One must have baby item that has come a long way with the age of technology is baby monitors. We used to have the walkie talkie style monitors but now monitors include video and can even be used with smart phones.
BrightVIEW Baby Video Monitoring System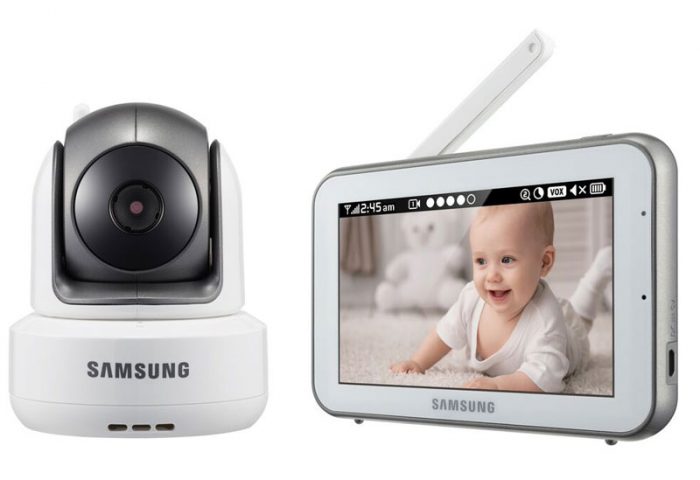 Features:
Ultra-Large 5.0″ LCD Touch Screen Monitor – There are no bulky controls with this baby monitor, which allows for a larger, brighter 5.0″ LCD color touch screen. Parents will never miss a detail with this enhancement.
Night Vision – This feature allows parents to securely monitor their child around the clock. The camera has night vision capabilities up to 16 feet and includes a soft, glowing night-light to calm the baby in the dark. When the camera detects changes in the light level, it automatically adjusts the video to the appropriate setting.
Quiet Mode – The voice-activated (VOX) mode enables users to adjust audio sensitivity levels on the camera to the parent's preference. By selecting low sensitivity mode, parents will only be alerted if there is a loud noise in the room such as the baby crying or an object falling. High sensitivity will alert parents to low sounds such as the baby cooing.
Audio Mode – The

BrightVIEW

monitor comes with an innovative audio mode that conserves battery power while ensuring child safety. To turn the screen off, simply select audio mode and press the power button on the monitor. While the screen is off, the monitor will continue to detect sound in the vicinity of the camera.
Pure Digital Signal – The Pure Digital Signal utilizes a 2.4 GHz frequency to provide secure and interference-free video. Unlike other devices, the Pure Digital Signal cannot be interrupted by wireless routers, microwaves, or cordless phones. Within a range of 900 feet*, you have the flexibility to move around the house without losing contact with your little one.
How things have changed! That swing that I was talking about that went with us everywhere? That was the old fashion crank swing. Every 15 minutes myself or my husband were getting up to crank it back up! With new technology everything has come so far and are often superior to the old fashion counterpart.
Additional Features:
HD Audio Enhancements – This baby monitor is equipped with the latest audio enhancements to amplify the two-way talk capabilities and enable parents to coo their babies to sleep. It also comes with an innovative audio mode feature that conserves battery power while ensuring child safety. While the screen is off, the monitor will continue to detect sound in the vicinity of the camera.
Four Built-In Lullabies – Often times, parents don't have the time, energy or vocal harmonies to sing lullabies on a nightly basis. If that's the case, the

BrightVIEW

monitor includes four, pre-programmed lullabies – including Brahms Lullaby and Hush Little Baby – to help soothe babies to sleep and allow parents to relax.
Parents can also schedule alerts through the BrightVIEW monitor to conveniently remind them of their infant or toddler's next feeding time. This is just one among many perfect gifts for the new mom.
The BrightVIEW Baby Video Monitoring System is now available to purchase at Kohl's, Target and buybuy BABY with a MAP of $229.99. For additional information regarding Samsung Techwin America consumer video monitoring and security products, please visit www.samsungsv.com
Disclaimer: Compensation was provided by Quidsi for this blog post OR I received compensation.