It is that time of the year here in South Florida, it is HOT, HOT, and did I say HOT? The high today was 91 degrees. You know what else that means? It means the pool is open and the family and I are spending more time outdoors. It only took a good two weekends of this hot weather to get the pool warm enough for even me to swim. Of course with the hot weather, intense sun, and more time outdoors comes the need to really pay attention to your skin and the need for sunscreen.
Blue Lizard Australian Sunscreen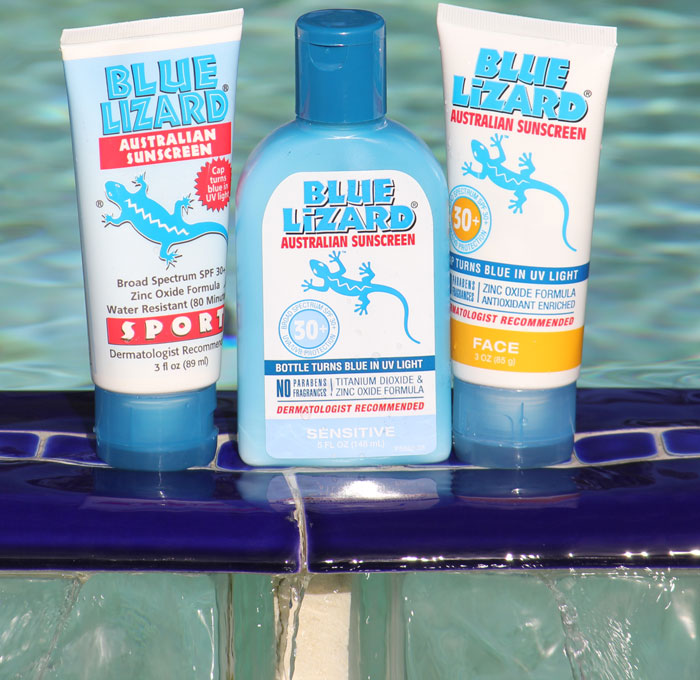 Blue Lizard comes right to you from down under, Australia. Did you know that Australia has the highest standards in the world when it comes to sunscreen. They are not playing around with your skin, they want to make sure you are protected with safe sunscreen, and they do so with board UV coverage. They have a sunscreen available for all skin types and actives including: sport, sensitive, face, and even the most precious skin baby. They may have started in Australia and stick to their guidelines but Blue Lizard is made right here in the USA.
Is Blue Lizard Waterproof?
No sunscreen is "waterproof," "sweatproof" or provides "all-day protection." These claims are forbidden by FDA regulations.

Regular and Sport provide 80 minutes of water-resistant protection based on the FDA testing method. This is the maximum allowed claim by the FDA. Blue Lizard Regular/Sport has also been found to meet the more rigorous Australian test method for water resistance at 240 minutes. Baby, Sensitive and Face do not claim water-resistant protection.
Blue Lizard is very open about their products and what they put in them, or better yet what they do not. The Sensitive and Baby formulas are chemical-free, paraben-free and fragrance-free as well as their most recommended sunscreen. Want to see something fun? The photo above was taken outside pool side. The photo below was taken inside the house.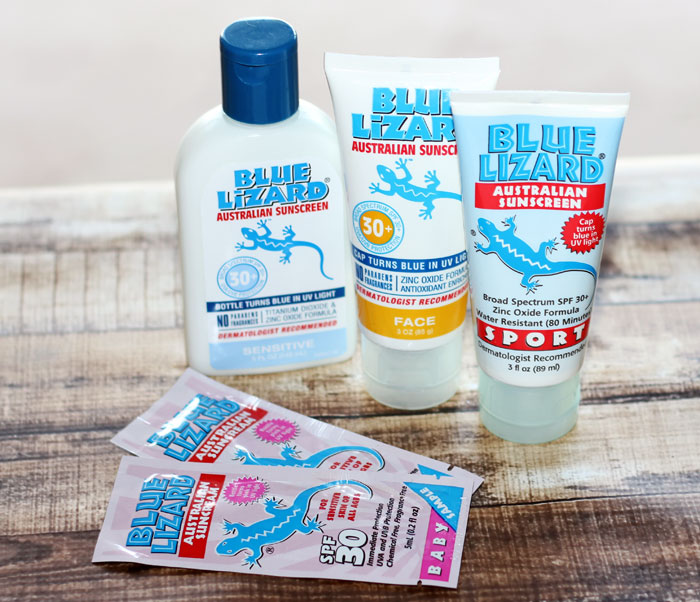 Do you notice the difference? Think….blue! The bottle, or bottle top, of Blue Lizard full spectrum sunscreen turns blue when it is in the UV Light. This is just their fun way of letting you know that you are in contact with UV light and you should put on some sunscreen.
The American Academy of Dermatology recommends everyone use sunscreen that is broad spectrum, with an SPF of 30+ and is water resistant.
This falls right in line with both what my doctor and dermatologist recommended to me as well. I was not so sun conscious when I was young and you could call me a sun worshiper. However over the years, and I assume due to more research in the field, I have definitely made using sunscreen a priority when I'm outdoors. I was going to say in the sun, but we all know that those UV rays penetrate the clouds and you can easily still be exposed on a cloudy day!
Blue Lizard Coupon Code
I love that Blue Lizard sunscreen adheres to the strict rules in Australia but has brought their product to the United States. Right now through 8/31/15 you can save 20% off your order of $35 or more at Blue Lizard by using this coupon code below.
Blue Lizard Coupon Code: P20SHIBS
Blue Lizard Twitter Giveaway
We are giving away to one lucky grand prize winner and a runner up some amazing Blue Lizard Sunscreen products. All you have to do to enter is simply re-tweet the tweet below.
Runner up would receive: a 3oz Face, 3oz Sensitive, 3oz Sport, 2 Baby sachets, all in a blue bag with a brochure and a color-change bracelet ARV: $ 44.17 and Winner would receive: a  5oz Face, 5oz Sensitive, 5oz Sport, and 2 Baby sachets (samples) in blue bag with a brochure and a color-change bracelet for an ARV of $57.17.
Grand Prize ARV($57.17)
5oz Face
5oz Sensitive
5oz Sport
2 Baby sachets (samples)

Blue

bag
Color-change bracelet
Runner Up Prize ARV($44.17)
3oz Face
3oz Sensitive
3oz Sport
2 Baby sachets

Blue

bag
Color-change bracelet
RT for a chance to win a Blue Lizard Fun in the Sun Prize Pack more info here: http://t.co/t3SKqYeDnt #ssgive13

— Colleen Shibley (@shibleysmiles) April 20, 2015
I received the above product or was compensated for my time and honest opinion of this product.