Have you reached that age? The age where you just cringe? For many that age is turning 30. For me I looked forwarded to 30. I was out of my 20's which often are looked at as the age when we are trying to find our way. The 30's made me feel that I had reached a new level of maturity. For me that first cringe was when I turned 36. It was the year that I was no longer in my earlier thirties but was approaching late 30's. It was all in my head because honestly it has been the 40's that became my new nemesis.
I swear when I turned 40 everything just started to fall apart like someone flipped a switch. At the age of 40 I had my first mammogram and was scared to death not of the procedure but if they would find anything. When you are young you feel like nothing can hurt you, or at least I did. As I aged, the fear of things not working properly started to become an honest worry of mine. I now own a pair of reading glasses and often have to ask my children to read the small writing on a medicine bottle.
No matter what your age it is important to take care of your body by eating healthy and exercising, your mind by keeping busy and continuing to learn new things, and your soul. It is also important to take care of your skin. I have found that eating healthy really helps give your skin that healthy goal. However sometimes no matter what we do our skin ages just like the rest of us does.
Lift + Firm Sculpting Cream by Beverly Hills MD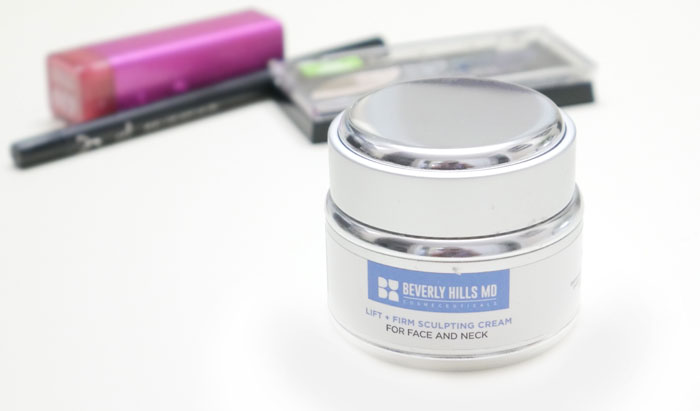 I was recently sent a bottle of Lift + Firm Sculpting Cream by Beverly Hills MD. I'm always trying new products but never really know if they work or not. I started using my Lift + Firm Sculpting Cream about a week or so go. I have tried to use as directed twice a day, but honestly I can tell you I have been doing it at least once a day (and then if I remember sometimes twice). I love to put it on in the morning before I get ready for the day.
The nice thing about the cream is there is not really much of a scent. This is great since I wear perfume and I don't want the lotion to mix or over power my perfume. Also unlike other creams I've tried before this goes on light and really makes my skin feel smooth. There is no tightness which one might think with a "firming" cream.
Features of Lift + Firm Sculpting Cream
This exclusive anti-aging formula gives skin a lifted, tightened, more youthful appearance. Highly sophisticated active ingredients are combined to create an intensive, restorative complex that considerably reduces the appearance of sagging skin by restoring skin's natural firmness.
Helps give skin a firmer, more lifted look
Contains natural skin tighteners to reduce the appearance of sagging
Accelerates collagen production to skin's natural support structure
Stimulates cellular renewal for a younger, healthier overall look
I am really excited to see the results after a month of use. After just one week I have to say my skin feels better. I think that it is firming up. I took a selfie and didn't notice my double chin as much as I usually do when taking a photo. I put the lotion along my checks, jawbone, and neck. I wanted to start there and see how it does and I am liking it enough that I'm going to start putting some around the bridge of my nose and forehead. I have to stay away from my eyes as I seem to have issues with any lotion near my eyes (they water constantly when this happens).  Also per the directions it is best to use the cream at night so I'm going to start making more of an effort to apply at night as well as in the morning.
Lift + Firm Sculpting Cream Directions
Beverly Hills MD Lift + Firm Sculpting Cream can be used twice daily. For best results, gently massage a thin layer of Beverly Hills MD Lift + Firm Sculpting Cream into freshly cleansed face and neck in an upward, circular motion. For best results, we recommend a bedtime application, to allow active ingredients to work with skin's natural nighttime regenerating processes.
I wish I had some good before and after photos to really see if there are any visible results. Since I didn't take either I'm going to take some in the morning and update this post after a month!

With a 60 day money back guarantee why not give it a try yourself?