I was introduced to OtterBox Cases about a year and a half ago. Since that time I have become very loyal to the company. We currently have in our home 2 iPhone 5's, 2 iPhone 4's, and iPod, 2 iPad's, and one iPad Mini. What do each of these have in common (other then a product of Apple)? Each one is wrapped in protection from their  OtterBox Defender Series Case. After a mishap with my original iPhone (yes the original no numbers after it) I took to the web to ask friends and bloggers what cases they recommend for my products. OtterBox was definitely the #1 answer I received.
My daughter's iPad only recently got a facelift. She was using a different brand but had a hard time with the stand so I told her we needed to upgrade her to an OtterBox Defender iPad Case. She was able to pick out her color and OtterBox sent us a Defender Case for review. She chose the grey and aqua case.
OtterBox Defender iPad Case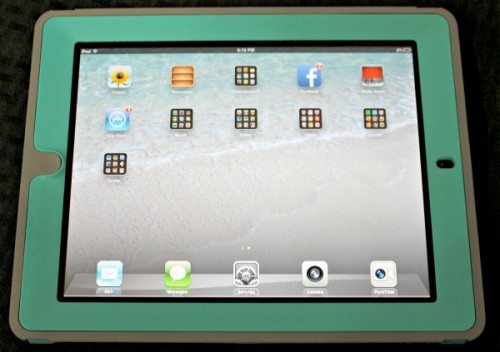 Honey was excited when her iPad Case arrived. She was ready for a little bit of color and a case where she could actually take off the stand and use it. I did an OtterBox Defender iPad Case review back in 2011 when I received my first iPad.  Since that time the case has been slightly upgraded and that small upgrade has made the biggest difference. Previously the rubber like wrapping that went around the outside would start to get weak and pop out of its shell. Or over time the plugs that cover the charging outlet and headphone jack would continue to pop out. The newer cases are made with a little bit harder material which solves all these previous issues.
Features of OtterBox Defender iPad Case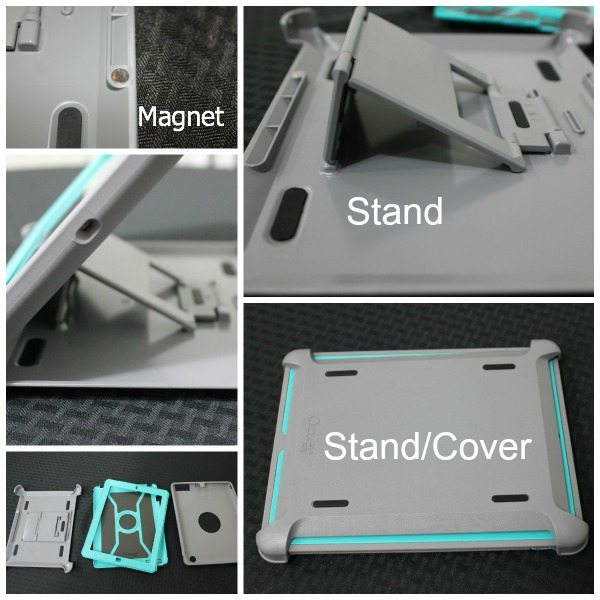 Magnet – The stand now has magnets on the edge to help ensure your iPad is secure and does not slip. I never had a problem with it doing this with the old iPad case but I think this is a great added feature.
Stand – One of the things I've always loved about the OtterBox Defender iPad Case is that the stand doubles as a cover. This means I never go anywhere without my stand. When I sitting at the table I can use the stand and when I'm done I can slap it on the case and go. When you chose to NOT use the stand but just hold it in your lap you can hook the case to the underside of the iPad case so that you do not loose it.
Protection – The three layers of protection helps protect against drops, dust, and  scratches.
As I mentioned above we are a very loyal OtterBox fan!