Last week I was at the hair dressers getting my highlights done and she showed me this new brush she got and totally gushed about it. The brush is called "The Wet Brush". She said it was the best brush she had ever used, and that was coming from a beautician. She said it is great getting out tangles and is made to use in the shower.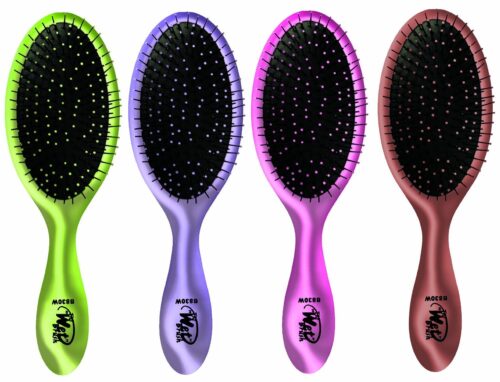 My daughter has long thin hair and it tangles often. After she showers, sleeps, breathes LOL. I am always looking for something to help. I am giving this brush 100% endorsement. We love this brush it does exactly what it says it does!
The magic of the Wet Brush™ is in the specially formulated IntelliFlex™ bristles. IntelliFlex™ bristles are thin, strong and very flexible. They have intelligent flexibility – flexible on one stroke and firm on the next. The adaptive flexibility of IntelliFlex™ eliminates all tugging, tearing, pulling and ripping. No split ends, no hair loss. It provides healthy brushing and detangling, creating the perfect transition from wash to style!
My daughter loves the brush and has decided she is old enough to brush her hair and has decided to brush it each day and night. Since we have purchased this brush I have not seen one tangle in my daughters hair. I use it myself as well, in fact I bought two more brushes one for my oldest son (who has longer hair) and one for my daughter (she wanted her own).
I can't say enough how much I recommend this brush. It feels great on your scalp as well. You can purchase it on their site (but it is a little pricey at $14 each), or Amazon.com, or at Sally's Beauty Supply. You may be able to find it else where but these are the three places I know of. The price is about the same on Amazon and Sally's at $8.98 for a single brush.