New parents generally attack baby-proofing the home with vigor. Cupboards, doors, faucets, light fixtures, toilets, even stairs have to be clamped or locked shut or blocked to keep mobile children from getting into trouble. There were many times when my children were at this stage where I had trouble opening things myself! Sometimes child-proof means everybody proof. I was always very careful to make sure  the bottom of the stairs had a baby gate, but let's be honest – those were hard to operate as well and they don't match most decor. Those that require drilling are time consuming and hard work. Those that are removable are often unwieldy or don't fit correctly without extensions or extra pieces. It's enough to give you a headache. Thankfully there's an amazing solution to this common problem – The Stair Barrier.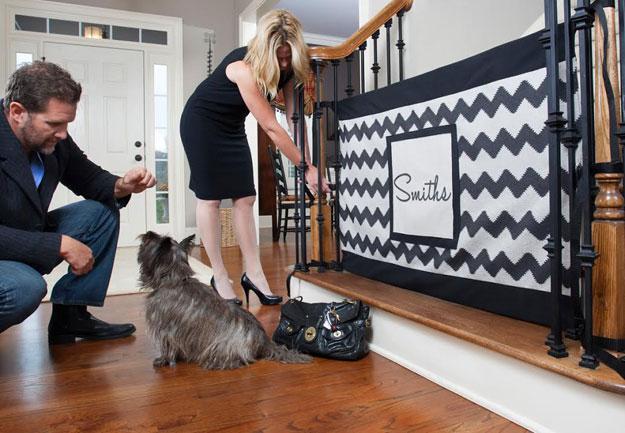 The Stair Barrier was created by a mom that understands how difficult it is to keep children and pets off the stairs. It is a non-permanent, attractive safety gate product designed specifically for the bottom of stairs and works effectively with the various banister designs throughout today's homes. It features Class 1 upholstery grade fabrics, internal plastic struts, heavy polypropylene webbing, and standard dual side release buckles. What exactly does that all mean? It adds up to an easily moveable banister to banister roadblock. Thoroughly tested against rambunctious children and even large breed dogs, the Stair Barrier withstands being rammed by a playpen and playful puppies alike. It's durable and easy to install. I appreciate anything that has a simple installation and can have me back to living my life as fast as possible.
The Stair Barrier comes in basic home, basic pet, signature chevron, signature chevron standard welcome, signature gray, and signature khaki. Surely one fits your style and even more some offer customization! Some options include script, a football, an initial with family, and more. Each is handcrafted in the US by family owned businesses. The Stair Barrier BB is meant for banister to banister installation, but don't worry. The company is releasing a banister to wall model soon! Other features to be available in 2015 are collegiate color options, outdoor barriers, and even more fabric and personalization options. Each Stair Barrier comes with a signature travel bag. This makes it portable and the perfect option for Grandparents, caretakers, or babysitters. They are able to easily bring and install the Stair Barrier while they are watching children, pets, or both.
Honestly the best feature of The Stair Barrier is how attractive it is. My sister has a "baby gate" not to keep out any babies her son is the same age as my daughter. It is to keep the dogs out of the bedrooms. I know that we are often fumbling with the gate to open and close it properly. However while it is functional it is not attractive, as it is a simple white plastic gate. I love the look of The Stair Barrier, and it is especially nice when the stair are the first thing you see when you enter your home.
Be sure to visit the Stair Barrier website for more information and a complete buyer's guide including an installation video as well as travel and care instructions. There's even a handy aid on how to measure your stairs and other FAQs for your convenience.
Do you have a need for a stair barrier in your home?