Well it has arrived…..the Holiday season is upon us. From Halloween to New Years we gather with our friends and family to celebrate.
I love to celebrate, eat, drink and be merry. This is my favorite time of the year!  For the past 4-5 years I have had a Christmas Brunch for friends and family.  Last year due to financial reasons I announced  I wouldn't be having the Christmas brunch.  Oh boy you would have thought I told them this was my last year to be alive. The reply I got was there is no way we are not having the Thompson Annual Christmas Brunch. We look so  forward to it each year and we will all chip in!  So needless to say the brunch was on and what a lovely time we all had.
I am already planning my  brunch for this year. There are a few items I make year after year only because everyone looks forward to them like my Calm Chowder Soup and a Fatad, but I try and make something a little different each year  to add to the favorites.  Money is still a little tight this year so I am looking for ways to entertain within my budget. I was pleased to discover that  Stonefire Authentic Flatbreads is teaming up with Alouette Cheese to debut the latest in Flavorology: the art of incredibly delicious combinations!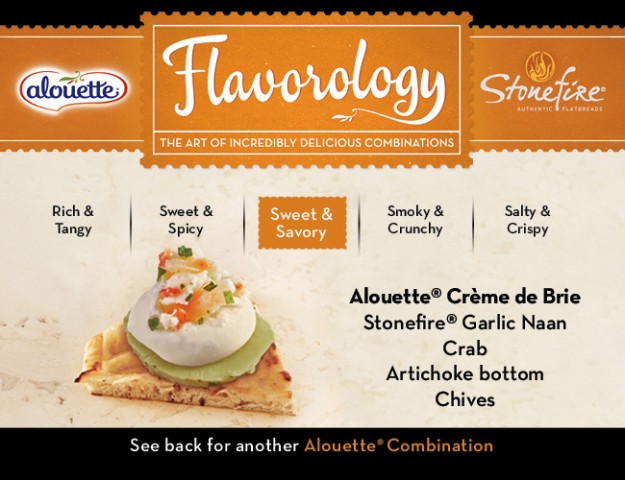 Starting at the beginning of November (and while supplies last) there is a special promotion at select retailers. Get a Stonefire Flatbread free when you buy any (1) Alouette Cheese, right up my alley for my Christmas Brunch. Stonefire Authentic Flatbread is never made with artificial ingredients or preservatives and  Alouette Cheese is soft spreadable creamy delicious cheeses in a wide variety of flavors.
I was asked if I would like to review Alouette and Stonefire and  come up with my own creative flavorology combination.  If you have read any of my previous post on food you know that I have a passion for cooking and love to come up with my own combinations so I of course accepted.
I was pleased when the boxes arrived that I had so many different flavors to choose from
Five different Cheese spreads and Brie, from Alouette and Garlic, Whole Grain and Original Flatbreads from Stonefire. Looking at the spreads my mind instantly started creating flatbread pizza's, and appetizers. I literally came up with an idea for all 5 spreadable cheeses so I made a couple of them to share.
When I saw the Wasabi Cheddar I thought how good would that be with Ahi Tuna so I just happen to have a nice piece of Tuna in the freezer and I created an Wasabi Cheddar Ahi Tuna Flatbread Appetizer
Wasabi Cheddar Ahi Tuna Flatbread Appetizer
Author:
Ingredients
1/4 t of salt
1 T Black pepper
1/2 t garlic power
Aloutte Wasabi Cheddar Cheese Spread
Stonefire Orginal Flatbread
Soy Sauce
Instructions
The key to making a good rare Ahi Tuna is to keep it frozen, yes that is right, freeze the tuna and then put it in cool water to defrost just until the center of the Tuna is a little soft, not all the way defrosted but soft.
Once you have defrosted the Tuna, rub on the seasoning.
In a frying pan put enough of a combination of 1/2 vegetable oil and 1/2 sesame oil to cover half of the tuna . Don't put the tuna in until the oil is as hot as possible , once the oil is hot put the seasoned tuna in the pan for 20 seconds, flip tuna to other side for another 20 seconds and remove. Let tuna set for about 10 minutes so that the seasonings will stick and then cut in thin slices. The center will be red and rare, may even be a little frozen but it will defrost before you serve.
Toast one of the original Stonefire flatbread and then cut it up in bite size pieces, spread a generous amount of Aloutte's Wasabi Cheddar on the flatbread and then place a piece of Ahi Tuna on top. Serve with Soy Sauce. The flatbread soaks up the perfect amount of the soy sauce when you dip it in.
The next appetizer I decided to create is Buffalo Cheddar Lemon Pepper Chicken Dip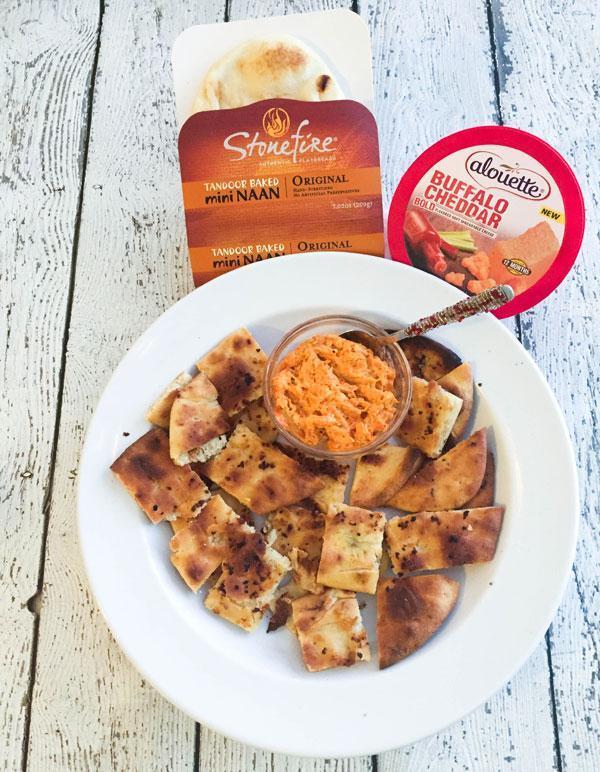 Buffalo Cheddar Lemon Pepper Chicken Dip Recipe
Author:
Ingredients
1 Boneless skinless Chicken Breast
Lemon Juice
Lemon Pepper seasoning
Hot sauce of your choice
Aloutte Buffalo Cheddar Cheese Spread
Stonefire Garlic Flatbread
Instructions
Place Chicken breast in a saute pan, pour in enough lemon juice to cover Chicken half way, season Chicken with Lemon pepper. cover and cook till chicken is done.
Place container of Buffalo Cheddar Cheese spread in bowl, depending on how hot you want your dip add hot sauce (optional) , I added about 1/4 cup,( I like hot and the Buffalo Cheese spread already has some heat ). Shred lemon chicken, combine with Buffalo Cheddar Cheese spread.
Toast Stonefire Garlic Flatbread, cut into pieces place around spread.
I will definitely be making both of these for my Christmas Brunch.
The delicious possibilities are endless, hurry to your select retailer,  and get a Stonefire Flatbread free when you buy any (1) Alouette Cheese,  so you can experiment with your own flavorology combinations at home. If you don't feel creative you can find more recipes and holiday entertaining ideas on Facebook/Stonefireflatbreads or Facebook.com/AlouetteCheese.
Do you entertain for the Holidays?