Maintaining a healthy lifestyle has become more than a necessity. The present generation has become so conscious about their health and fitness that they are adopting different means to improve their physique and mental health, out of which the most popular one is using a fitness app, Fitbit.
For those not familiar with, Fitbit is the most popular name in the world of health and fitness. The app solely constitutes 19.2% of shares in the wearable tech market with 25.4 million active users, 61% of sale in the USA, and 2017 revenue of $1.615 billion.
Do these numbers fascinate you? Are you interested in developing a fitness app like Fitbit? If so, here are the 7 features you must include in your fitness app development process.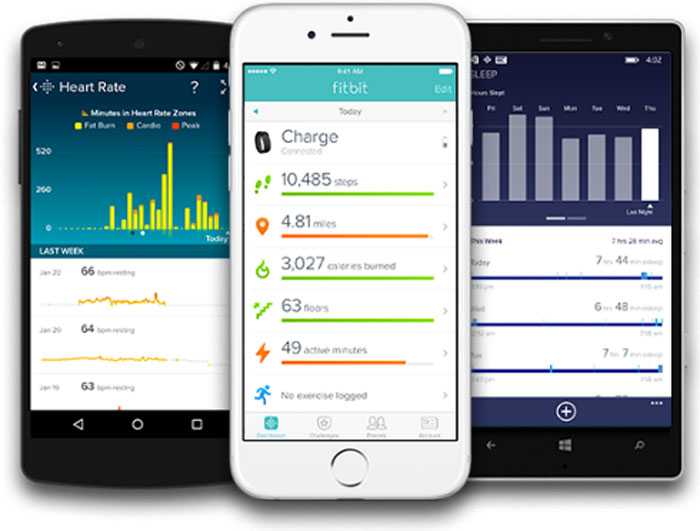 Profile Creation
A Fitness app should have the profile creation option. By allowing the users to create their individual profile, you can gain information about the end user with which you can offer a personalized experience. Besides, this app screen can empower the fitness freaks to look into their personal information and the choices they made while using your application, which can again improve their experience with your fitness mobile app.
To make the profile creation process simpler and effective, empower the end users to sign up via Google or Social media accounts, rather than creating a new account. This will cut down the process and helps you to gain more information about the registered users.
Setting Targets
Since every user has a different body shape, size, and fitness goals, it is necessary to add the personalization element into your app. Empower the end users to set their own targets and get the services and information accordingly. This customization feature, when considered while developing a fitness app like Fitbit, will boost user experience. So, ask your mobile app development company to consider this.
Push Notification System
Another feature to consider during Fitness app development is push notifications. By integrating  the push notification system into your mobile app, you can easily notify them about their next workout routine or share some exclusive health and fitness related videos or guide, which can keep them returning back to your application. Thus, maintaining the customer retention rate for your mobile app.
When it comes to push notification, make it certain that you do not send push notifications excessively. Keep the push notifications limited and if possible, personalize them too.
Activity Log
To ensure that the users remain hooked to your Fitness mobile application, add the activity log feature. When the fitness freaks will be able to look into a comprehensive stats, like how much time and efforts they have put into the workouts and how much calories they have reduced so far, they would be motivated to continue further. So, look forward to it.
Multi-device Synchronization
It is often possible that a user would be interested in using your fitness app, but will not be having the sync fitness wearable or device. In such a scenario, it is necessary to enable them synchronizing their app with other devices or wearables, i.e., provide them with the Multi-device synchronization facility. This feature will prevent the users from missing any routine and thus, interest in your fitness mobile app.
Chat Feature and Social Media Sharing
Again, Chat and social media sharing features are also necessary to keep the fitness freaks connected to your app. While the chat feature will make it easier for them to interact with the popular fitness trainers and get advice beyond what shared in the app, the social media sharing feature will enable them to brag about their fitness goals, achievements and share their photos on the social platforms. This, on one side, will keep the existing users excited and loyal towards your fitness app. While, on the other side, will attract various other users from their social circle, which implies a higher chance of getting millions of downloads on your app.
Audio/Video Guide
Last but not the least, adding an Audio/Video guide is a crucial element of developing a fitness app like Fitbit. This feature, just like a trainer at the gym, instructs the users about which exercise to do and how. This cuts down the risk of injuries which not only improves their performance, but also boost their confidence and prompt them to use app religiously.
Besides, investing in data security, sleek design, and in-app payment system is also effective in case of Fitness app development. So, don't forget to consider all of these features while developing a fitness app like Fitbit, and thus, increase the chances of app success. In case you still have any doubt or want me to explain any point further, feel free to leave a comment below.