It doesn't matter if you agree or disagree but without a doubt the male brain and female brain think differently.
1. How We Work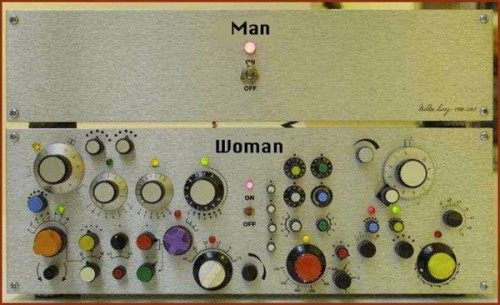 2. Definitions
THINGY (thing-ee) n.
a. female…Any part under a car's hood.
b. male…The strap fastener on a woman's bra.
REMOTE CONTROL (ri-moht kon-trohl) n.
a. female…A device for changing from one TV channel to another.
b. male…A device for scanning through all 175 channels every 2 1/2 minutes.
3.Directions:
If a woman is out driving and she finds herself in unfamiliar surroundings, she will stop at a gas station and ask for directions. Men consider this to be a sign of weakness. Men will never stop and ask for directions. Men will drive in a circle for hours, all the while saying things like, "Looks like I've found a new way to get there", and, "I know I'm in the neighborhood. I recognize that White Hen store".
4. What We Mean
5.The Real Definition of Words When Used By Women
Fine – I am right. This argument is over. You need to shut up.
That's Okay – One of the most dangerous statements a women can make to a man. "That's okay" means she wants to think hard and long before deciding when and how you'll pay for your mistake.
Nothing – The calm before the storm. This means "Something" and you better be on your toes. Note: Arguments that start with "Nothing" usually end with "Fine" (See #1).