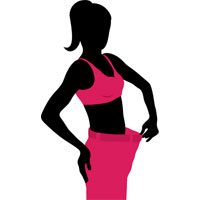 Health is its own reward. Sadly, most people don't realize this and look at diets and exercise as forms of punishment. But losing weight is about feeling and looking great, and in preparation for the summer, I've been pushing my friends to consider weight loss programs, such as HCG treatments, that actually work. I've been employing some very persuasive propaganda in order to convince them that now is the time to do this.
Here's my logic:
Get a tan without having to go to a private beach.
Summer time is beach time. But are you really going to want to go to the beach if you feel awful in a swimsuit? Losing weight will return the confidence in your body that you used to have, back when it was fun to stroll the beach in a bikini. Changing your physical appearance for the better can give you an entirely new lease on life.
Have more energy to deal with your kids running around the house all summer.
During the summer, your kids will be singing a popular Alice Cooper song while parading around the house. This can require an entirely new dimension of parenting that calls for energy, patience, and maternal charm. You need to be in tip-top shape for the summer. You can't send your kids to camp for three months!
Rekindle a romance in order to campaign for a second honeymoon.
Summer is a great time to rekindle your marital vows and take a nice romantic vacation. There's no better way to incite the hubby to whisk you away on a Caribbean cruise than to shed some pounds and return some curves to your body.
I hope I don't sound superficial. Obviously, there's more to life than just looking like a supermodel. That's why my reasons for losing weight are about regaining personal confidence, strengthening your parental abilities, and renewing the romance in your life. Losing weight and living a healthy life will give you more energy, more confidence, and more incentive to do the things that make you happy and give your life meaning.
---
Disclaimer: This is a guest post, opinions expressed are that of the author. You may read more of my disclosure here.
---