For around half the world's population, city living is where it's at, and city-dwellers are proud of their cosmopolitan, tech-savvy lifestyle. Gifts are a way of celebrating our relationships with special people, so why not let our gifts also celebrate the urban lifestyle they love? At first, this might seem rather difficult to do, but technology has the answers. What could be more urban chic than something that was made with a little high tech assistance?
Beautiful Wall Art Shaped by Cities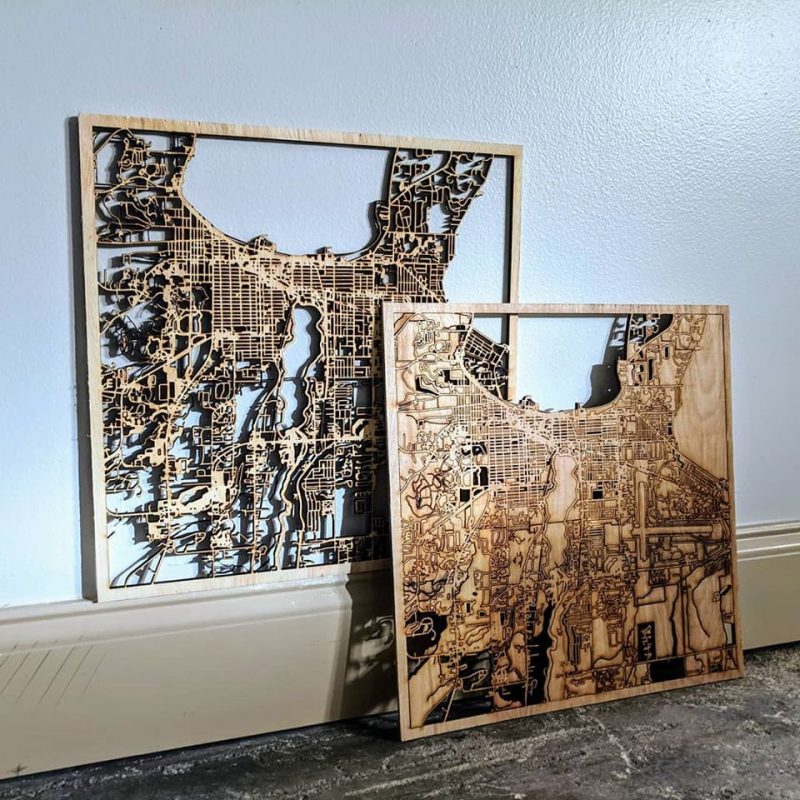 This is definitely a gift to buy rather than try making yourself. If you can do it, I'll take my hat off to you, and even if you can, your artwork will probably take years to make. Given that computer-controlled laser cutting by the pros means you need only place your order, sit back, and wait for delivery, the high-tech way is the way to go!
I was really excited when I saw this idea. What could be a better way of celebrating the urban lifestyle than an artwork that's based on the real-life map of a city itself? The intricacy of these maps made with laser cutting technology is fascinating, and the best part is that you can actually choose which city or area you want represented. Yes, It's one of those "I can see my street!" moments, and don't tell me you haven't used Google Earth to do just that!
Use Your Digital Photography Skills Plus a bit of Crafting
It's hard to remember the days when photography was a costly hobby. Nowadays, just about everybody sees themselves as an amateur photographer. I'm ready to bet you have tons of snaps taken in around your city with your friends and family as the focal point. If you think your photos aren't good enough, you can always look around for stock photos that are free or low-cost to use.
You have the urban living pics! Now what to do with them? Framed prints are a bit too conventional for my taste, especially when making gifts from your photos is so easy! I'm really eager to try out some of the photo craft ideas I've seen out there. From practical items to decor, your images could become the basis for gifts that reflect the urban lifestyle.
High-Tech Planters for Apartment-Dwellers
Technology has crept into everything, even the art of growing plants. It turns out that you don't need to know anything about gardening to enjoy some greenery after all – even if you live in an apartment and don't have much room to spare.
Smart planters water themselves, have automated grow-lights, and don't leave you with much to do in order to keep your greenery thriving. Plus, I've seen some really stunning designs that make them a decor feature rather than a rather messy afterthought.
Urban farming is a big trend at the moment, and although your apartment-dwelling friends and family won't be bringing in a massive harvest, they can easily grow herbs, microgreens (another trend to watch) and even strawberries. Your urbanite buddies don't need to get their hands dirty, and since the best smart planters are fully automated, they won't have dead plants on their conscience.
Maybe Even Spoil Yourself
Do you share my problem with gift shopping? I've no sooner seen something awesome and thought: "This would be perfect for so-and-so," than I find myself wanting exactly the same thing for myself too!
So now I'm thinking longingly of wood-filigree maps (would look super on the wall behind the couch) and sleek, almost maintenance-free planters. Plus I've spotted a lot of really cool photo craft ideas that I absolutely must try – if I can find time to get around to it. Can you feel it too?