You come in contact with dozens of allergens every day in your house, from soap and moisturizer to cleaning supplies to clothes and whatnot. However, you may not be aware of which of these compounds you are allergic to because you frequently get exposed to them.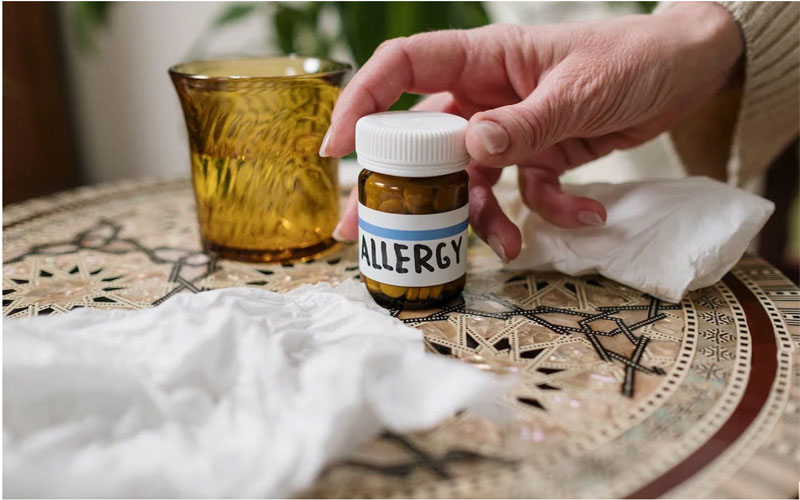 It is easier to look out for allergic sources outside of your house, but have you ever realized that allergy stimuli can also be discovered within your own home? That's right, your home is full of many allergy inducers, some of which may be visible while others may not be.
And while finding the cause of allergy attacks can indeed be difficult and time-consuming, we outlined the ten daily essentials to look for that cause allergy.
10 Daily Essentials To Look Out For That Cause Allergy
Chemicals
Your allergies could also be triggered by perfumes and laundry detergents. Laundry detergents are a common cause of skin problems; in fact, they are usually identified as the core reason behind allergic reactions for those who come into contact with them on a regular basis.
Dishwashers and soap are other types of chemical items that tend to cause allergic reactions for users because of significant exposure to soap. And soap is regarded to be very allergic to many users as it depletes the skin and washes down the natural oils, which causes irritation.
Even after use, these items still release particles into the atmosphere or in your hand and can cause itchy or eye irritation and an itchy nose, which are two vital signs of chemical allergies.
Whenever you experience these side effects after cleaning or applying chemicals, stop using the product right away. You can also look into other cleaning tips when cleaning your house with chemicals.
Dust
Dust, as well as dust mites, can exacerbate asthma and allergy symptoms. Regular surface cleaning can reduce the likelihood of asthma and allergy symptoms.
However, be careful not to wash too frequently since some cleaning agents can actually cause allergies.
Mold And Humidity
Just like dust, allergies can be brought on by mold, which is a highly dangerous and very common source of allergies. Anywhere there is moisture, especially on the days after rain, mold can proliferate. And whenever the air is humid, dampness can encourage the growth of mold.
Molds can usually develop when damp sponges are left out or when laundry is left in the washer for an extended period of time without being rotated. It can also build up because of the humidity and dampness in the bathroom besides growing on the rims of your shower.
Molds can usually be removed safely and quickly by cleaning the affected areas of your home with water, bleach, and detergent, retarding further mold growth.
For complete mold removal in spaces bigger than ten square feet, a thorough cleaning may be necessary.
Changing the filter of the air conditioners every once a month will help, as well as an air purifier installation will be beneficial to prevent high humidity levels in your house.
You can also learn more about air purifiers and have a better idea of whether you should get one to make your house humidity free.
Pets
Another of the most frequent allergy triggers is pets. If you or a close relative is allergic to animals, it is best to avoid having any type of furry pet in the house and outside the house.
If you have any interaction with any pet or have friends bringing over their pets, clean and dry out the items in the water of at least one hundred thirty degrees that the pet has come into contact with. And make sure to take a shower right away to get rid of any remaining pet fur.
Smoke
One of the most frequent causes of indoor allergies and asthma is cigarette smoke.
Even after someone has stopped smoking, smoke particles may continue to diffuse throughout your house, aggravating allergies and asthma symptoms.
It's crucial for your roommate to smoke outside if you share a space with them.
Smog
Allergies can also be triggered by other kinds of smoke, including, such smog and environmental pollution. Be careful when you wash your clothes and bedding frequently if you reside in a polluted location.
Clothes
Allergens trapped in your carpets, pillows, and drapes, such as possible pet hair or pollen lead to asthma reaction with its other telltale symptoms.
It is important that you regularly wash your carpets and beds to ensure that the allergens are thoroughly removed from the materials in your everyday clothes.
Regularly clean your home thoroughly, including all the cloth furniture, draperies, and couches. You can go for a filter vacuum that can be used once or perhaps twice a week. It ensures that all the allergens in the clothes, draperies, and couches are removed thoroughly.
ToyS
Toys are one of the most common household items that might become a haven for allergens or dust mites to breed, but ensuring that they are at a fixed temperature will destroy the bugs.
Make sure the room temperature is above seventy degrees, and the humidity level is above forty percent, which is not ideal for dust mite growth, preventing it from growing within the toys and spreading.
Cockroaches
As disgusting as it may sound, cockroaches frequently create allergy triggers. Roaches are ubiquitous, much the same as dust mites and dust. Like your dogs, you are sensitive to what comes from roaches rather than the roach itself.
Allergies are brought on by a protein in cockroach excrement. To prevent cockroaches in the house, block or cover any open crevices, store your meals in jars in the refrigerator, and ensure your pet's bowls are stored.
Candles
Candles are a pleasant addition to many households, whether it's for holiday celebrations or to create a cozy, inviting atmosphere in your home. However, allergies are a bothersome side effect that they might also have.
Moreover, numerous compounds found in synthetic fragrances have the potential to trigger allergic responses. Hence, try to avoid directly smelling candles or going near them a lot if you feel uneasy when lighting candles or having them in the room.
Conclusion
Overall, we outlined the ten daily essentials to look out for that cause allergies and tips on how you can make your house allergy free. We hope that you are able to take inspiration from the tips mentioned above and also look out for possible allergy stimuli or triggers.